Arrow Wants To Bring Back One Of Its More Popular Characters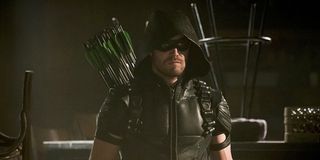 As the longest-running superhero comic show currently airing on primetime television, The CW's Arrow has accumulated quite a cache of side characters that can be brought back at any time, and Seasons 3 and 4 have seen the show taking advantage of plenty of them. In fact, the most recent episode brought back Roy Harper, Nyssa al Ghul, and Tatsu Yamashiro all at once. According to executive producer Marc Guggenheim, there's one popular character in particular that he wants to bring back: Jessica Du Gouw's Huntress.
The Huntress – also known as Helena Bertinelli – is one of Oliver's more ill-advised former flames, one who used his training to become a vengeful crossbow-carrying villainess. Taking into account Arrow's recent affinity for spotlighting characters in masks, Guggenheim's admission on his Tumblr page that he'd like the Huntress back comes as no huge surprise.
This is not the first time that Marc Guggenheim has taken to Tumblr to talk about the Huntress. He revealed last year that a Huntress episode was scrapped in Season 3 due to the unavailability of Jessica Du Gouw.
As much of a bummer as her absence has been for fans of the Huntress, there's no denying that another actress simply wouldn't be able to embody the character after what Du Gouw brought to the role. Recasting just wouldn't work, and the Huntress isn't so essential a character to Arrow canon that she would need to be brought back without Jessica Du Gouw. She first appeared back in Season 1 in a two-parter that more or less served as her origin story. Following in the grand tradition established early on of bad things happening to women who jump into bed with Oliver Queen, her quest to avenge the death of her fiancé took a dark turn as more and more innocents became collateral damage.
The Huntress was arrested following the conclusion of her quest for revenge, and she's currently locked away in Iron Heights Prison. Considering the ease with which other characters have escaped from Iron Heights in the past, Guggenheim really shouldn't have too much trouble coming up with a believable way for the Huntress to return to the streets of Star City if Jessica Du Gouw becomes available for Season 5. Now that Oliver is much more of a standup guy – aside from concealing his secret kid in Central City in one of the least heroic decisions ever made on this show – it should be interesting to see how he and the Huntress would interact in another meeting.
In the meantime, there's plenty going on with Arrow without the Huntress making a return. Arrow airs on Wednesdays at 8 p.m. ET on The CW.
Resident of One Chicago, Bachelor Nation, and Cleveland. Has opinions about crossovers, Star Wars, and superheroes. Will not time travel.
Your Daily Blend of Entertainment News
Thank you for signing up to CinemaBlend. You will receive a verification email shortly.
There was a problem. Please refresh the page and try again.