Could Legends Of Tomorrow Crossover With Swamp Thing? Here's What Marc Guggenheim Said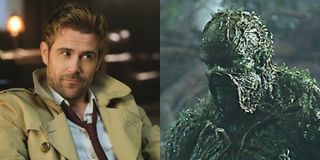 The CW's fall TV season is going to look a lot different this year, with most of the network's line-up premiering in January 2021. To fill the empty time slots, The CW acquired the broadcast rights to DC Universe's one-and-done horror series, Swamp Thing. In DC comics, Legends of Tomorrow's John Constantine was first introduced in The Swamp Thing Saga #37. Now that both properties are on The CW, could Legends of Tomorrow crossover with Swamp Thing? Well, executive producer Marc Guggenheim recently revealed the chances of that happening.
The latest Arrowverse crossover, "Crisis on Infinite Earths," brought together DC characters from across its various live-action properties. However, Swamp Thing was noticeably absent, save for a brief clip revealing its existence outside of the Arrowverse. By that point, though, the show had already been cancelled. Now that Swamp Thing and Legends of Tomorrow are sharing a network, the possibility of a crossover is likely, right? Recently, Marc Guggenheim explained his efforts to include the DC Universe show in "Crisis" and discussed the possibility of a future Legends crossover. Here's what he said:
"Hope springs eternal" is a good attitude to have, especially knowing how much the Arrowverse has accomplished with crossovers in the past. Never say never and all that. I'm sure there are a lot of logistics, rights issues, and other behind-the-scenes stuff to figure out, but the chances of it happening seem a lot higher than ever before.
What's more, viewers didn't expect to see so many cameos in "Crisis on Infinite Earths" and the team somehow managed to pull it off. As for Swamp Thing crossing over with Legends of Tomorrow, Marc Guggenheim further explained to CBR.com that he isn't so keen to bet against it happening. Here's how he puts it:
Many are hoping that Swamp Thing's arrival on The CW will actually get the network to pick it up for Season 2. The series, which starred Teen Wolf's Crystal Reed, Derek Mears, and Andy Bean was unceremoniously cancelled by DC Universe shortly after its Season 1 premiere last year. Whether the series ever crosses over with Legends of Tomorrow remains to be seen. At the very least, it might capture the attention of new viewers when it premieres on The CW this fall.
Swamp Thing Season 1 doesn't yet have a scheduled CW release date but, if you can't wait for it to premiere, you can stream it now on DC Universe. Stay tuned to CinemaBlend for updates. In the meantime, you can also catch John Constantine in new episodes of Legends of Tomorrow Tuesdays at 9:00 p.m. ET on The CW.
Your Daily Blend of Entertainment News