Why Arrow's Oliver Queen Had To Die In Crisis On Infinite Earths, According To Marc Guggenheim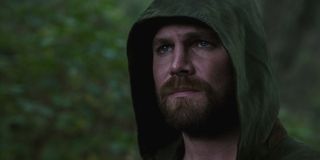 Arrow wrapped its eighth and final season in January, but the series finale was unique in that the emerald archer was already long gone by then. He mainly appeared in flashbacks because Oliver Queen died not once, but twice during the mega crossover that preceded Arrow's end. Recently, executive producer Marc Guggenheim explained why Oliver had to die in "Crisis on Infinite Earths."
Arrow kicked off what became known as the Arrowverse, with the shared universe expanding to include The Flash, Supergirl, Legends of Tomorrow and more. With Arrow's end coinciding with "Crisis on Infinite Earths," it seemed incredibly apt that the superhero to launch the Arrowverse would also be the one to die when the multiverse was at stake. Marc Guggenheim, who once served as Arrow's showrunner, revealed that he'd always advocated for Oliver's death. Here's what he told ComicBookMovie.com:
I also didn't think that Oliver's journey would end in "any other way," either. The Green Arrow never struck me as the kind of hero who would live to see the end of his days, so sacrificing himself to save the multiverse and his family felt like the right way to go. Of course, the emerald archer's legacy lives on in his children, William and Mia, whose lives were rewritten in the aftermath of their father's death.
Oliver also knew in advance that he was going to die. In Arrow's Season 7 finale, the Monitor paid a visit to Star City's hero — who had made a deal with the galactic being in the year's previous crossover "Elseworlds" — and told him that he was fated to die during "Crisis on Infinite Earths." But was Oliver's death always meant to occur in the crossover? Here's what Marc Guggenheim had to say:
It's a small, but important change and I think dying in "Crisis on Infinite Earths" actually gave Oliver a bigger send-off than if he had died on Arrow. Either way, the Green Arrow got his own version of a happy ending in the Arrow series finale, and that's all any superhero can really hope for after years of hardship.
All eight seasons of Arrow are currently streaming on Netflix. The Flash, Batwoman, and new Arrowverse series Superman & Lois are slated to premiere their new seasons in January 2021. For more on what to watch, be sure to check out our 2020 fall TV premiere guide.
Your Daily Blend of Entertainment News
Thank you for signing up to CinemaBlend. You will receive a verification email shortly.
There was a problem. Please refresh the page and try again.