Ashton Kutcher Gets Naked For Ellen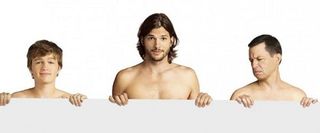 Ashton Kutcher is out to promote the pants off his new role on Two and a Half Men. Oh wait, that's promote with his pants off. Ashton stripped down to his birthday suit for the season premiere of The Ellen DeGeneres Show and did his interview with Ellen herself in the buff. No arguing that man has cojones – and now Ellen has actually seen them.
As if the promos for the upcoming season of Two and a Half Men weren't enough, Ashton has apparently decided to "do everything nude from now on." Or so he told Ellen as he stood before her in all his naked glory for the premiere of her talk show, according to Deadline. You might say Ashton is getting just a little overexposed – we might all have seen more than enough of him by the time the season premiere of Two and a Half Men airs on September 19th.
Ashton's appearance on The Ellen DeGeneres Show will air on September 12th, a week prior to the newly Charlie Sheen-less series Ashton has joined. One hopes he will at least be wearing clothing occasionally on the show. I'm sure Demi Moore is a patient woman, and Ellen is about the least threatening host to strip for, but there has to be a limit to any woman's acceptance of her husband's proclivity for naked television appearances.
I'll say one thing for Ashton – I can't recall the last time a show dropped a leading man and replaced him quite so successfully. Of course, ratings have yet to be seen, but the buzz – and the nakedness – certainly have things looking good.
Your Daily Blend of Entertainment News
Thank you for signing up to CinemaBlend. You will receive a verification email shortly.
There was a problem. Please refresh the page and try again.