Banshee Review: Cinemax's New Series Has Ball's... American Gothic Signature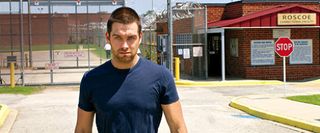 Banshee is by no means Alan Ball's singular vision, the series was created (and is mostly written) by newcomers Jonathan Tropper and David Schickler, but the pilot does carry a stamp undeniably similar to shows that also bear the Executive Producer's name. Ball is famous for exploring the darker side of the American psyche with a large helping of humor, sex and violence and Banshee's pilot follows suit (not badly tailored) delivering a thoroughly enjoyable entrance into the series.
The freshman show falls somewhere between Ball's excellent but perhaps more, uh, stiff Six Feet Under and the increasingly soap-opera, supernatural fun True Blood. Banshee's pilot doesn't contain any outright supernatural elements but it does have a similar atmosphere, tone and world building as the first season of the his southern gothic vampire series. By the way, that's best one. Set in Banshee, Pennsylvania (hence the title, well, more on that later), the series follows accomplished criminal and renown thief who decides to steal a sheriff's identity just after his release from prison.
Steal is a strong word but I don't want to ruin how the old switcheroo comes to pass (whoa violence!) but this ruse not only helps Anthony Starr's protagonist to seek out his former lovers, crime and his beautiful partner played by Ivana Milicevic, but also hopefully avoid the gangsters who are still hunting them over a past betrayal. Of course, this means that the crook(er) turned copper with a heart of gold also finds himself facing off with the local crime lord. It's like Walking Tall and A History of Violence rolled into one which not only allows for a lot of action but also, structurally, two solid foundations to build the rest Banshee on going forward.
The pilot opens with a lot of energy and effortless cool as our mysterious and ruggedly handsome anti-hero leaves his harsh prison life behind and begins living his free life. Well, someone else's life. Starr's real name might remain a secret but the dialogue-free introduction still told us everything we need to know about his grey knight character. By no means an angel, having a quick shag and boosting another car, however, like many noir protagonists, the man soon to be known as Lucas Hood clearly has a code. He's a shady guy who lives in an even shadier world.
And one of the main strengths of the pilot, directed by Greg Yaitanes (LOST), is the way the writers managed to craft (the contrasting) world(s) of Banshee (and the big city ) and introduce all of the many, many characters without too much exposition. Starr is great as tough-talking, private-eye archetype and reminds me a lot of Ray Stevenson while the rest of the cast also did well with the limited material they were given. The material wasn't bad, it's just that so much time was devoted to 'Lucas Hood' that not many or the many supporting roles felt particularly memorable. Frankie Faison (Barney! The Silence of the Lambs) had perhaps the most time as Sugar and handled it with ease, creating a confident that we can all trust while I thought Milicevic (Love Actually) and Ulrich Thomsen (The Celebration) also made the most of their brief appearances. As for the rest of the large ensemble, they all seem fine and I liked the way that the title sequence not only played up the tone but also delivered pictorial insights into each of the supporting players. Did you notice the boxing gloves? The football? I wonder if there was a hint into what caused the scars on attractive police officer (and possible sexual competitor to Milicevic's tied-up love interest)? Lastly, even though Ryann Shane's performance and storyline as the troubled daughter seems cliche, the implied progression of her character is pretty interesting.
If you missed the pilot but want to check it out, Cinemax has made Episode 1 available online. For free. I doubt this will be the case for all ten first season installments. Oh, and a banshee is a female fairy who begins to wail if someone is about to die and, although originally a Gaelic legend, it's a figure also prominent in American folklore. Seems thematically appropriate for the series about a man not only returning to his dangerous past but building plenty of new enemies along the way. I wonder if Milicevic's Anna, sorry, Carrie, is the one wailing? I know I'm going to keep watching to find out.
Banshee airs Fridays at 10:00 p.m. ET on Cinemax. Created by Jonathan Tropper and David Schickler (with Alan Ball, Greg Yaitanes and Peter Macdissi as executive producers), the series stars Anthony Starr, Ivana Milicevic, Ben Cross, Cedric Stewart, Frankie Faison, Rus Blackwell, Trieste Kelly Dunn, Ryann Shane, Matt Servitto, Hoon Lee and Ulrich Thomsen.
Your Daily Blend of Entertainment News
Thank you for signing up to CinemaBlend. You will receive a verification email shortly.
There was a problem. Please refresh the page and try again.