Better Call Saul Sets A 2-Night Premiere And Gets A Tingling New Trailer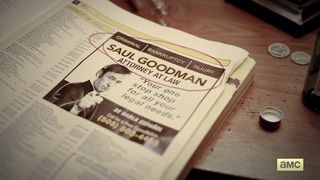 Better Call Saul is officially set for a 2-night premiere in February. There's a new teaser for AMC's hugely anticipated Breaking Bad spinoff Better Call Saul, and this one leaves us positively tingling with anticipation. Grab a quarter and hit play!
AMC released the above teaser, including the caption:
That confirms a 2-night premiere for the series. That's good news, we hope. February 8 also happens to be the night The Walking Dead returns for the second half of Season 5. Set your calendars accordingly!
As for the new teaser, the video takes us into a seedy motel, which appears to be the scene of some naughty shenanigans...
Who knocked the TV over? And it's probably fine to jump to all of the right (or so wrong) conclusions about the smudged mirror on the bed...
That bed is vibrating, causing a Jurassic Park-style liquid shake to happen in the glass on the night table. Looks like someone's quarter just ran out...
Nothing like a bit of "Tingle Fingers" to set the mood. But if you see the phone book opened to this man's face, it's safe to assume something went wrong.
Better call Saul, indeed!
Set as something of a spinoff to AMC's Breaking Bad, Better Call Saul will tell the story of Bob Odenkirk's attorney character Saul Goodman, in the years leading up to his eventual relationship with Walter White. The series will pick up six years before Saul meets Walt, when he's going by the name Jimmy McGill and working as a small-time lawyer and hustling to pay the bills. The cast also includes Jonathan Banks, Michael McKean, Rhea Seehorn, Patrick Fabian and Michael Mando.
Your Daily Blend of Entertainment News
Thank you for signing up to CinemaBlend. You will receive a verification email shortly.
There was a problem. Please refresh the page and try again.