Billy Baldwin Lands A Recurring Role On CBS' Hawaii Five-0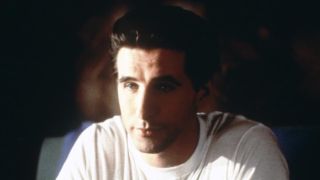 (Image credit: Paramount)
Of all the television remakes, and film for that matter, very few are successful. Well, many are financially successful but in terms of creating something genuinely new, worthwhile and actually engaging only a small handful of series manage to pull it off. I don't love everything about the Hawaii Five-0 revival but it's definitely one of the better reboots of the last few years. And this is probably why they have such an easy time filling guest spots and recurring characters.
The Roberto Orci and Alex Kurtzman produced show (co-creators of Fringe and the minds that are usually lumped into the JJ Abrams crew) had a pretty solid first season, even getting a Supporting Actor Golden Globe nomination for Dan-O, aka Scott Caan. This may be another reason that actors are lining up to join the show. During this off-season, the show has already brought in Terry O'Quinn, Richard T. Jones and Laura German (so hot!) to fill more major roles with Tom Seizmore also locked in for a multiple episode guest spot... and now another name just signed on as his adversary.
According tomTVGuide, "the sophomore CBS drama has booked William Baldwin for a multi-episode arc." That's right, Billy Baldwin. Amidst the rumors that his big brother Alec may be leaving his cushy 30 Rock gig, it seems that we'll still be able to get a weekly Baldwin fix on network TV... at least until his multi-episode arc runs its course. William Baldwin is expected to first appear in the third episode of the upcoming season and I hope he plays the character exactly like his cameo in Forgetting Sarah Marshall.
TVGuide summarizes the role as, "a former homicide detective who was kicked off the force for corruption. Since then, he's organized a crime wave with a team of fellow dirty cops." Which means he may but heads with Internal Affairs head and former partner Tom Seizmore. Now, will there be anything for the original characters to do? As long as their are criminals for Dan-O to book, we're going to be alright... He will book 'em right? Dan-O?
Hawaii Five-0 returns Monday, Sept. 19 at 10 p.m. ET.
Your Daily Blend of Entertainment News