Hawaii Five-0 Adds Hot Homeland Security Agent And Love Interest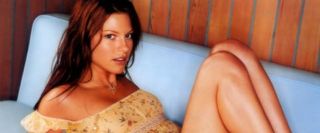 A reboot that actually worked. That is rare these days. No, not reboots, they are all too common, but reboots actually being successful due to their quality, not just their cachet. The reboot in question is Hawaii Five-0, and the CBS police procedural is adding more actors to the already bulked up second season cast. Say hello -- oh sorry, aloha -- to these newbies.
The show recently added Lost alum (and Daniel Dae Kim's fellow castaway) Terry O'Quinn in a recurring role as an ex-Navy SEAL mentor to our lead, McGarrett (Alex O'Loughlin), and all-around bad-ass (bad-boy) Tom Sizemore as a pain in the aforementioned ass Internal Affairs agent -- an arc that will open the sophomore season of the CBS show.
Lastly, well before getting to the brand new info anyway, the show had to bring in a new governor (you know, since last season ended with that crazy [spoiler]) so they hired Richard T. Jones to fill those now empty shoes. As TV Guide reported, "this new governor will be more conservative than Jameson and keep a tighter leash on McGarrett and his team."
One method of keeping this leash tight is bringing in your own member...hence the casting of Lauren German for the second season. TV Line announced the new addition, with Graham set to play a beautiful Homeland Security agent (aren't they all?) hand-picked by the new governor to join and keep tabs on McGarrett's team. They added that "German's character will not just help them fight crime, but also keep them in check on behalf of the Gov. And, as hinted above, she is poised to also serve as a potential love interest." Ah, love and crime in Hawaii, so pretty.
Hawaii Five-0 returns to CBS this fall, Mondays at 10 p.m. ET beginning September 19th, 2011.
Your Daily Blend of Entertainment News