Billy Campbell To Play Abraham Lincoln In Nat Geo's Killing Lincoln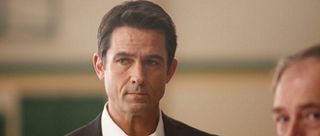 It's not often the opportunity comes up to play one of America's best-loved Presidents in a movie, so it's pretty big deal when you land the role of none other than Abraham Lincoln. Billy Campbell has to be pretty pleased with his casting as Lincoln himself for National Geographic Channel's adaptation of the book Killing Lincoln.
Campbell, who is currently starring in AMC's The Killing will take on the lead role of Abraham Lincoln, says Deadline. The two-hour semi documentary drama is based on the book by Bill O'Reilly and Martin Dugard, Killing Lincoln: The Shocking Assassination that Change America Forever. It takes an in-depth look at the assassination of Lincoln. The best-seller documents the conspiracy behind one of the most shocking murders in American history, and has been in the works for a telefilm since September. It's set to begin filming next month.
Whether or not you like Bill O-Reilly, and plenty of people do not, the story behind the death of Lincoln is easily one of the most interesting and undoubtedly, as the subtitle of the book states, an event that changed America. Lincoln is a figure who looms large in American history, and the chance to play him has to be exciting for any actor, as well as being a challenge. Lincoln has moved into the realm of legend, and most portrayals of him tend to be somewhat of a stereotype. That makes playing him difficult, especially trying to make him more of a real person.
The Nat Geo movie has Ridley and Tony Scott executive producing and Gettysburg director Adrian Moat behind the camera. Interestingly, Campbell also appeared in Gettysburg, which picked up six Emmy nominations. Perhaps Campbell is hoping there's an Emmy nod for him in the near future?
Your Daily Blend of Entertainment News
Your Daily Blend of Entertainment News
Thank you for signing up to CinemaBlend. You will receive a verification email shortly.
There was a problem. Please refresh the page and try again.