Josh Brolin To Narrate Untamed Americas On National Geographic Channel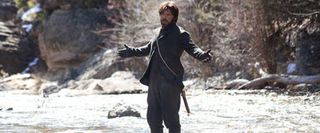 Narrating documentaries can be a lucrative side career if a celebrity has the right voice. Both Morgan Freeman and Sean Penn are known for their documentary narration abilities and many other celebs have given at least one documentary a gander. I personally don't think there is anything more soothing than listening to Morgan Freeman discussing penguins, but True Grit actor Josh Brolin is willing to give it a shot.
Brolin has signed on to narrate a new documentary miniseries for the National Geographic Channel called Untamed Americas. The four-part miniseries will follow producers throughout the wild as they encounter struggles for survival in the most untamed of spots including "mountains, deserts, coasts, and forests" throughout the Americas. Untamed Americas will air on the National Geographic Channel, as well as Nat Geo Wild, and Nat Geo Mundo, the company's Spanish-language network.
According to THR, the series will premiere sometime later this spring, so we won't have too wait too long to determine whether Brolin does or does not have some narrating chops. In the meantime, the actor really does seem excited about the project.
Passion for the great outdoors is great, but how about passion for voice over narration? TV Blend will keep you posted when National Geographic announces an official release date for Untamed Americas.
Your Daily Blend of Entertainment News