Bob's Burgers Review: New Fox Animated Series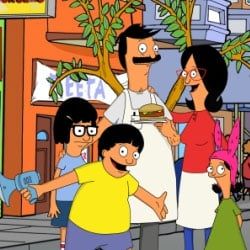 Fox's "Animation Domination" was turning into Seth MacFarlane domination as the animator and voice to that pompous, opinionated baby Stewie held three of the four series in Fox's Sunday night primetime block, however that's about to change as Fox premieres the new animated comedy series Bob's Burgers.
Brought to you by Loren Bouchard, Bob's Burgers centers on a family that owns and runs a struggling burger joint. The pilot episode introduces us to Bob and his family, which is typically dysfunctional. Bob's wife, Linda (voiced by John Roberts), believes her husband has a surprise up his sleeve for their anniversary but Bob ( H. Jon Benjamin) is too busy trying to deal with Bob's Burger's grand re-re-re-opening. There's also the pesky health inspector who's poking around to see if the rumors are true that Bob's Burgers serves human flesh. Rounding out the family are Bob and Linda's kids Tina (Dan Mintz), Gene (Eugene Mirman) and Louise (Kristen Schaal), each of whom play their part in the business operation (for better or worse).
Those familiar with Bouchard's previous work, which includes Comedy Central's Dr. Katz, Professional Therapist and Adult Swim's Home Movies, will recognize the animation style. As for the humor, it's somewhat fitting that the series airs between The Simpsons and Family Guy as the humor falls somewhere between both shows, with jokes ranging from a fart-noise-making bullhorn to naming a burger "the child molester" (I won't spoil the reason behind that). Linda being voiced by a man (sounding like he's doing an impersonation of a woman) makes her nagging particularly funny, as does the awkward daughter Tina, who is also voiced by a man.
Bob's Burgers may not be entirely family friendly (although, I suppose that would depend on the family) nor is the premise entirely original but much like Fox's other animated series on Sunday night, this is a show that celebrates the humor and the messiness of the typical American family. I expect that those already set to tune in to Fox on Sunday nights for their other popular animated series will find Bob's Burgers to be a tasty treat and a great fit for the time slot and the network.
Bob's Burgers premieres Sunday, Jan. 9 (8:30-9:00 PM ET/PT) on FOX.
CLICK HERE to view the full 2011 Winter TV Premiere Schedule.
Your Daily Blend of Entertainment News
Thank you for signing up to CinemaBlend. You will receive a verification email shortly.
There was a problem. Please refresh the page and try again.