Boss Review: Kelsey Grammer Delivers An Outstanding Performance In Starz' New Drama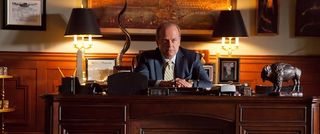 Kelsey Grammer returns to television in a starring role tomorrow night when Starz premieres their new drama series Boss. Well known for playing the title role on TV's Frasier years ago, among other parts, you won't find much to laugh about in Grammer's new role, however he does deliver a fantastic performance as Mayor Tom Kane.
Created by Farhad Safinia, Boss has Kelsey Grammer playing the mayor of Chicago. We're introduced to him as he learns he has some degenerative brain disorder that's working its way through his mind and will eventually begin to cause major problems as it affects his memory and behavior. Given the work that he does, one would think he'd want to tell his family and closest advisors of his condition, but instead, he tells no one. There's work to be done and webs to be woven as he continues to manage the city and play his role in upcoming governor election.
Kathleen Robertson plays Tom's political aid Kitty O'Neil. She's so on the ball, she finishes his questions for him and then answers them. This should come in handy if and when things begin to get worse for Tom's health issues, and something tells me it won't be long before Kitty figures out what's going on with him. Martin Donovan plays Ezra Stone, Kane's chief of staff. He too is fairly close to Tom, though he might be less likely to question Tom's strange behavior unless it impacts his work in some major way.
Kane's family situation is strained, to say the least. His marriage with Meredith (Connie Nielsen) is just for show, and neither of them are speaking much to their daughter Emma (Hannah Ware), who has a history of substance abuse.
Based on the first couple of episodes, Boss appears to be taking the slow-boil approach, which is certainly something pay-cable networks can afford to do more than network TV. The series has enough characters to push the story forward beyond the focus of Tom's medical problems and complicated professional situation. As the major of Chicago, there's a lot on his plate, and we soon learn that his way of dealing with things isn't entirely what some would consider ethical, which adds another layer of intrigue to the series. Boss appears to be spreading the focus between Tom's work, his family situation, his co-workers and his medical condition, giving the series plenty of places to go as the story and the characters are further developed.
Grammer is fantastic as the stony mayor, who is now a bit unstable and perhaps frustrated and disappointed to learn that his health is slipping away. Grammer plays Kane as a man who is very much alone in his problems, despite being surrounded by people who would be there to help him if he let them in on his secret. And Kathleen Robertson, whom I will probably always associate with her role as Claire in Beverly Hills, 90210, delivers an excellent performance as the sharp, capable, Kitty.
Boss appears to be taking its time in setting itself up, however if things continue to move forward as they have in the first couple of episodes, Starz' new drama could prove to be a captivating series and a must watch on Friday nights.
Boss premieres Friday, October 21st at 10:00 p.m. ET/PT on Starz.
Kelly joined CinemaBlend as a freelance TV news writer in 2006 and went on to serve as the site's TV Editor before moving over to other roles on the site. At present, she's an Assistant Managing Editor who spends much of her time brainstorming and editing feature content on the site.
Your Daily Blend of Entertainment News
Thank you for signing up to CinemaBlend. You will receive a verification email shortly.
There was a problem. Please refresh the page and try again.