Britney Returning to HIMYM?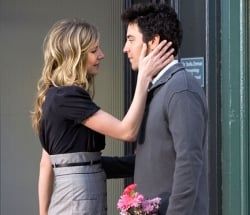 The best kind of relationships? Mutually beneficial ones. Britney Spears and the producers of How I Met Your Mother seem to recognize this truth, as there is talk that Spears may return to reprise her role on the CBS sitcom. The former pop princess and current tabloid trainwreck guest starred on the March 24th episode as an (endearingly?) crazy receptionist after Ted's heart (and later Barney's wallet/pants).
Spears' appearance not only garnered HIMYM its highest ratings ever, but proved that Britney could sit still in a makeup chair and say lines in a coherent fashion. It was a win-win. While her appearance is only in the rumor stage right now, it could mean good things for pre-Britney HIMYM fans. Her return could indicate that Sarah Chalke, who played the dermatologist who could very well end up being "The Mother," may also return and push that storyline further along. Even if Scrubs moves to ABC for a final season, her shooting schedule should still allow a couple appearances on HIMYM.
One final slightly off-topic question: Did anyone else think that Chalke's character may not only be the mother, but the woman who terrorized Barney's prospective paramours in last week's March Madness episode? Because I totally did—but I'm also insane.
Your Daily Blend of Entertainment News
Your Daily Blend of Entertainment News
Thank you for signing up to CinemaBlend. You will receive a verification email shortly.
There was a problem. Please refresh the page and try again.