Cameron Diaz Raps In Funny Thanksgiving SNL Sketch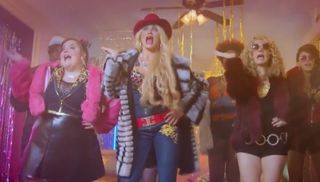 Cameron Diaz returns to SNL with a hysterical new rap spoof along with the rest of her posse as the rap group "Your Girls" drops their newest single. This time they tackle returning home for the holidays with their cut "Back Home Ballers."
The song illustrates what its like for these gangsta girls to go home for Thanksgiving and have family and friends dote on every word they say while visiting. The There's Something About Mary alum again proves that she has the comedic chops that can keep up with any Saturday Night Live member as she rhymes her way through this war of words.
Featured along with Diaz in the video are cast members Kate McKinnon, Cecily Strong, Sasheer Zamata, Vanessa Bayer, Leslie Jones and Lil' Baby Aidy Bryant rhyme about the perils of coming home for Thanksgiving and the spoils of being the visiting daughter. They spew their lyrics into a seriously professional sounding rap that could easily march up the Billboard charts…if it were the real deal of course! Diaz has a knack for comedy going all the way back to 1994's The Mask when she carried that film to box office glory. Her rhymes are tight and she could easily double as a hip hop artist if the whole acting thing goes south.
Perhaps the funniest moments of the rap are the girls going on and on about how coming home for Thanksgiving is like being a celebrity. From doing a load of laundry with just one sock, being psyched that the house is filled with Costco goodies to going to the movies and having your parents pay for the tickets, all the cliches are here for those ready to make the schlep home for Turkey Day.
The coups of the rap is the the girls rapping about trying to type in their parents ridiculously annoying long wi-fi password which we have all suffered through at some point. This is absolute laugh out loud funny as another digit or letter gets added to the insufferably long code. Classic.
The girl power of the 40th season of Saturday Night Live is in full effect in "Back Home Ballers" proving to critics that the late night staple still has some street cred despite the ire of YouTube comments. Every week, sketches are put up on the site and analyzed and scrutinized with comments from loyal users in hopes of their beloved late night show improving. With the faux group "Your Girls" continuing to drop rhymes like this, the rep of SNL is sure to improve as this becomes a staple bit for the sketch comedy show. No word yet on when "Your Girls" will be returning to Saturday Night Live but they are a welcome addition--especially with Diaz guest starring.
Your Daily Blend of Entertainment News
Your Daily Blend of Entertainment News
Thank you for signing up to CinemaBlend. You will receive a verification email shortly.
There was a problem. Please refresh the page and try again.