Celebrity Apprentice Power Rankings: Clay Squares Off With Arsenio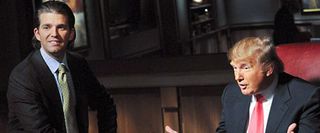 After lambasting Arsenio for his verbal actions in past weeks, Donald Trump eventually turned to Aubrey and fired her ass, beginning this week's Celebrity Apprentice final task with a bang. With Arsenio pitted against Clay, we didn't have to wait long to ascertain what the final challenge would be. The next morning, Trump told the two men they would each be putting on a variety show where they would also have to create a PSA announcement for their charities and bring in some big ticket donors.
With the variety show theme in mind, Arsenio opted to go the comedy route, pulling Adam Carolla, Lisa, Paul Sr. and Teresa together to come up with some funny ideas. Clay Aiken, likewise, played to his strengths, putting together a team of musical personalities including Aubrey, Debbie, Dee, and adding Penn to the mix for his creative viewpoint.
At the start, Clay's team seemed to be the more organized unit, with the singer delegating various tasks out to his subordinates, and Arsenio having a little trouble reining the creative members on his own team in. As the task wore on, however, the tide seemed to change. Arsenio grew stronger in his ability to explain exactly what he wanted from his team and Clay began to micromanage, which caused the decision-making process to go a whole lot slower.
By the end of the episode, both teams seemed to be finding donors and getting all of the last minute pieces of the challenge together. However, Clay was busy dealing with a mural fiasco and Arsenio was having some commercial troubles due to some verbal confusion with Adam Carolla's camera crew. Next week will determine which man will land on his feet and which will earn second place (again?). Something about this task screams it will be a photo finish.
The Celebrity Apprentice Power Rankings are an ordered compilation of weekly lists put together by TV Blend writers Jessica Grabert and Mack Rawden. Each week after viewing the episode, they each rank the competitors in order. Seventeen points are given for a first place vote, and this week, Sixteen were given for a last place vote. Sixteen competitors have already been eliminated; therefore, those people automatically occupy the bottom slots. Here is how this week's voting panned out, complete with analysis on how the celebrities might fare moving forward.
The Final Two
#1) Arsenio Hall (31): Wow. I thought for sure Arsenio wasn't making it out of the boardroom. Despite winning twice, it just didn't seem like he contributed enough on the tasks he wasn't the leader for. Trump obviously thought differently, and if the beginning of this task is any indication, he may have been right. Overly eager to please people during the season, Arsenio found a new aggressiveness this week, firmly yet politely shooting down bad ideas. His management style is very hands off, but with an eclectic team full of players capable of contributing, that lax approach might well be his key to besting Clay.
#1) Clay Aiken (31): I was a little worried about Clay's ability to bring in donations at the beginning of the task, but he seemed to come through, just in time to start micromanaging his players. The normally adept and calm leader really wants things to be perfect for his final challenge, and he seems to be putting a lot of energy and effort in. We'll see how the final task pans out, but if there is one thing Clay really has going for him, it's the drive to succeed, to persevere, to win at all costs. Second place does not seem to be an option.
Here's a look at how the ballots shook out…
Jessica:
Arsenio Hall (17)
Clay Aiken (16)

Mack:
Clay Aiken (17)
Arsenio Hall (16)

Your Daily Blend of Entertainment News
Thank you for signing up to CinemaBlend. You will receive a verification email shortly.
There was a problem. Please refresh the page and try again.