Charlie Sheen's Anger Management Series Will Air As Part Of FX Comedy Block This June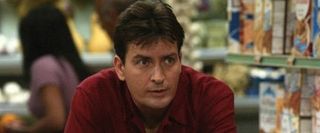 Whether you're a fan of Charlie Sheen's or not, his upcoming Anger Management series is one of the most buzzed-about shows on the horizon, simply because everybody wants to see if he can recover from his ignominious departure from Two and a Half Men or not. Will Sheen flourish on a new show and new network, or will the same problems that lead to his departure from the hit CBS show resurface to bedevil him again? Hell, will the show actually be funny? There will be plenty of people tuning in simply for the potential train-wreck factor, and now those curious rubberneckers have a date to mark on their calendar. Sheen's Anger Management will debut on June 28th, as part of a new FX comedy block of Thursday-night programming.
FX is going all in when it comes to betting on Anger Management's success. According to Deadline, the show will premiere on the 28th with two back-to-back episodes at 9 and 9:30 ET/PT, and then the following weeks will settle into a pattern of repeating the previous week's ep at 9 and then showing a first-run episode at 9:30. The show is based on the 2003 movie starring Jack Nicholson and Adam Sandler, and will have Sheen playing an unorthodox anger-management therapist. FX has ordered 10 episodes so far.
Whether Anger Management is any good or not, it will definitely have some good company surrounding it. The second season of Wilfred, starring Elijah Wood, will premiere at 10 pm on the 28th, followed by the third-season premiere of Louis CK's exemplary Louie at 10:30. Another new series will cap off the comedy block, with Russell Brand's new late-night comedy series Strangely Uplifting occupying the 11 pm slot. The show is said to feature Brand's "unfiltered take on current events, politics and pop culture."
Your Daily Blend of Entertainment News
Your Daily Blend of Entertainment News
Thank you for signing up to CinemaBlend. You will receive a verification email shortly.
There was a problem. Please refresh the page and try again.