Cleopatra Miniseries In Development At Lifetime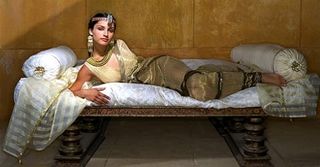 Lifetime is taking on the last queen of Egypt for the network's next potential project. Having already done the story of Liz Taylor, who happens to be the most famous actress ever to play Cleopatra, Lifetime is now developing a four-hour miniseries about the life of Cleopatra herself.
The story of Queen Cleopatra has been told many times. She was the last leader of Egypt before it fell to the Roman Empire, and was romantically linked with both Roman Emperor Julius Caesar and Marc Antony. She is legendary both for her beauty as well as for the suicide that took her out of the reach of Rome in the end. Elizabeth Taylor's Cleopatra stands as the largest production to take on the tale in history, nearly bankrupting Fox studios in the early 60s. A 1999 TV movie based on the Margaret George novel The Memoirs of Cleopatra put Dallas' Leonar Varela in the title role; it marks the most recent miniseries to focus on the life of the Egyptian queen.
Lifetime was once known best for melodramatic after-school-special type movies, but in recent years that image has been changingdrastically. The network's programming is still dramatic to be certain, but Lifetime has moved further into historic dramas and biopics. The network has also been pulling in some big names to star in these programs. Lindsay Lohan played Liz Taylor recently in Liz & Dick, and Holly Hunter and William Hurt are starring alongside Emile Hirsch and Holliday Grainger in the upcoming Bonnie & Clyde. According to Deadline it looks like Cleopatra could be the next in line. Should the project move forward it will be interesting to see who winds up in the lead role.
Your Daily Blend of Entertainment News