Comedy Central Nabs Community Reruns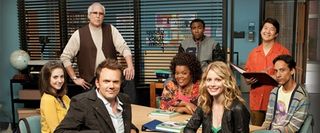 We're a mere day away from the much-anticipated return of Community to NBC's Thursday-night line-up. It's a welcome return after an unfortunate hiatus and rumors that the show's current season will be its last. Community still isn't safe, sadly, because, as Arrested Development taught us, brilliant comedy often doesn't translate into good ratings. Still, even if the axe does fall on Community, its reruns will live on courtesy of Comedy Central, which will be adding the show to their schedule beginning in 2013. The cable net has picked up the rights to all three seasons of the show. Presumably rights to any hypothetical fourth season would have to be negotiated in the future.
As reported by the Huffington Post, David Bernath, executive vice president of program strategy and multiplatform programming for Comedy Central, said the following: "Within the chaos of the current media landscape we are fortunate that we live in a timeline where Community comes to Comedy Central. Our staff is celebrating with a game of paintball in the offices today."
Having Community regularly being rerun where new viewers might discover can only be a good thing. Could it actually help the show's case when it comes time for NBC to say yea or nay to a fourth season? It obviously won't help earn any viewers in time to rescue the show, seeing as how the episodes won't premiere on Comedy Central until next year, but the syndication deal might make the show a more attractive property to NBC. However, early episodes of the show became available on Hulu this past December, so that very well may have generated some new fans. Community also lucked out that 30 Rock, which took over the 8/7 Central timeslot during the show's hiatus, failed to better Community's ratings up against American Idol and The Big Bang Theory.
New episodes of Community return to NBC tomorrow night, March 15th, at 8/7c.
Your Daily Blend of Entertainment News
Your Daily Blend of Entertainment News
Thank you for signing up to CinemaBlend. You will receive a verification email shortly.
There was a problem. Please refresh the page and try again.