Comedy Central Roast of Charlie Sheen Adds Mike Tyson, Steve-O, And TMZ's Harvey Levin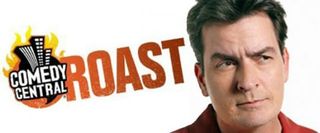 Let's set the record straight right off the bat: I'm not pro Charlie Sheen doing anything (except for maybe a Hot Shots el Numero Tres) but this roast of his, or more appropriately of him, just sounds better and better. Today's news is an announcement of a few roasters who intend to participate in the mid-September event...and they are exciting choices because they are just more targets for the seasoned comedians to, well, roast.
When the news first broke is seemed like the obvious place for Sheen, the sitcom star turned raving loony, to turn to after the initial buzz wore off and everyone realized that he's no longer a story of interest. Just the fact that his career now feels like a 15-minutes-of-fame scenario instead of the 25 years the guy has actually been a successful actor is saying a lot about the way the last few months went down. I'd almost feel sorry for the guy if he wasn't a millionaire who's blind to his own problems and vices.
Back to the topic at hand, what makes me even more excited for the roast -- besides the endless material that pros like Jeff Ross will have to sling at Sheen or the expert hosting duties we can expect from Seth MacFarlane -- is the breaking news (via TVLine) that "the first group of roasters for its Roast of Charlie Sheen [...] includes TMZ boss Harvey Levin, Jackass star Steve-O, former boxer Mike Tyson as well as comedians Anthony Jeselnik and Jeffrey Ross." Why is this announcement exciting? Hmm.
I find this of great interest because I hope the comedians participating just tear Harvey Levin to absolute shreds. The guy is lowest common denominator, I mean lawyer (sleazy already) turned paparazzi television mogul/celebrity...ugh, find me a guy with a sleazier resume (who makes money off releasing photos of the very ill Steve Jobs, for example). Tyson will also be an easy target but making fun of him feels a little played out. And Steve-O? I'm not sure you can technically roast someone who's willing to do some of the things he's done (port-a-john slingshot). Either way, it should make for a funny and cringe-filled night.
The Comedy Central Roast of Charlie Sheen will air September 19th on, you guessed it, Comedy Central.
Your Daily Blend of Entertainment News