Community Watch: Custody Law And Eastern European Diplomacy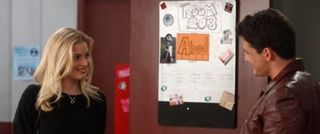 After announcing via Twitter that Community had been picked up for a third season by NBC, Community creator and executive producer Dan Harmon jokingly tweeted:
"No better feeling than knowing the rest of your episodes can totally blow."
That's good, because so far, he's one-for-one.
The main plot centered on the impending birth of Shirley's baby. Chang continues to insist upon being a part of the baby's life (assuming it's his), and Shirley is adamant at keeping Chang at a distance. Shirley goes to Jeff – who is Chang's current "roommate" – about trying to get Chang to sign a forfeiture of parental rights. Jeff takes the papers to Chang, but relents when he sees how distraught Chang is. In Shirley's baby (perhaps his own), Chang sees his last chance for fatherhood. Jeff, however, sees a chance to rid himself of Chang. Jeff tells Chang if he straightens up his act, Shirley might let him be part of the child's life.
But, this advice backfires. Shirley finds Chang's surface maturity to be annoying, and gets mad at Jeff for encouraging him. Chang decides to up his game, and picks up Shirley's kids from school to help them with their Spanish homework. This would be a nice gesture if Chang actually knew Spanish. Or if, you know, he picked up the right kids.
When Jeff gets back to his apartment, he is irate, and curses Chang for his characteristically nuts behavior. He goes to take the kids back to Shirley, but Chang – having learned that the kids aren't Shirley's when Jeff left the room – calls the cops on Jeff and has him arrested for kidnapping.
Jeff goes to jail and learns about prison arts & crafts, but Shirley and Andre are quick to bail him out. Shirley spoke to the boys' real mother, and convinced her to drop the charges against Jeff and press charges against Chang. Jeff's all for it, and wants Chang locked away for longer, but Andre helps them both see the error of their ways; as Andre was once a philandering jerk, he knows Shirley knows how to look for the best in people, and that their problems wouldn't go away just be locking Chang up. Story wrap, see ya for the birth.
The B-plot revolved around Britta, and her budding relationship with Lukka – the hunky Baltic friend of Troy and Abed's. The esteemed talk show hosts do not want Britta to date Lukka, since whenever she dates any of their friends, she ends up telling Troy and Abed horrible things about the guy, thus scarring Troy and Abed forever. This is the reason they no longer hang out with Jeff "Nipple Play" Winger.
Britta goes after Lukka anyway, and manages to give him her number and land a date. But Britta – the fickle sort she is – cools on Lukka quickly, just because he's helped commit genocide and seems to miss killing people. Women. Who knows what they want.
Britta wants Troy and Abed to stop hanging out with Lukka, but she doesn't want to keep the stigma as the one who keeps ruining things for the pair. Instead, she tries to frame Lukka for borrowing Abed's Blu-ray of Kickpuncher 3 – a heinous crime that Abed considers beyond reproach. Britta is caught stealing the Blu-ray (and lying to Troy and Abed about it), and the two cast her aside as the treacherous dog she is.
In the end, Troy and Abed learn the truth about Lukka, and they forgive Britta. They also recognize that they've been giving her a rough time lately, so they make her a deal – they ease up on the criticism, and she stops ruining things for them. They make up, and Britta rebounds by immediately ruining the plot of Catfish for them – and for me, too. Thanks a lot, Community. I guess I'll take that off my Netflix queue.
Normally at this point in my recaps, I like to go over all the best moments and whatnot from the episode, but there really wasn't much worth talking about this week. Sure, the episode tied in with the overarching storyline of Shirley's pregnancy, but I'm sick to death of that storyline, and the jokes were pretty flat anyhow. And worst of all, barely any Pierce or Annie (though the two had some of the best lines of the night in the 30 seconds they were featured).
It makes sense, though – if you're going to have a filler episode, you might as well have it when most of your 18-to-35 year-old audience is out drinking green beer or watching March Madness.
But still… to make it up to us, I wouldn't mind if we could see the full version of "Hit Me With Your Genie's Bottle," as made popular by Britta-ney Spears.
Your Daily Blend of Entertainment News
Thank you for signing up to CinemaBlend. You will receive a verification email shortly.
There was a problem. Please refresh the page and try again.