Community: 10 Major Behind The Scenes Events That Have Happened
Community has had a long and bumpy road on the way to Six Seasons and a Movie.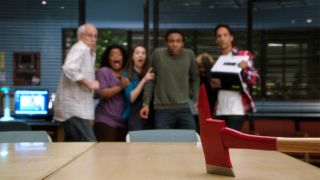 (Image credit: Sony)
The history of Dan Harmon's Community is a strange one. For starters, there's the fact that it was a show perpetually existing on the bubble, meaning that stress went through the roof every spring as fans, cast, and filmmakers anxiously anticipated the renewal/cancellation news. But in the grand scheme, that was just the tip of the iceberg. This is a series that dealt with a surprising amount of behind-the-scenes drama for a comedy, including notable private feuds being made very public, and major cast members, like Donald Glover, deciding to say their farewells prior to the sixth and final season.
These were all stories that fans were well aware of as Community was airing between 2009 and 2015, but those of you who are only now discovering the series via Netflix or Hulu may be totally in the dark about everything that happened with it during its run. To help fill you in on the details and provide a grander perspective on the show, we've put together this handy guide – which will not only explain the disappearances of certain faces, but also explain why certain stretches of the show are a bit different than others and the history of what is slated to become a run of Six Seasons and A Movie.
Dan Harmon And Chevy Chase Butt Heads
Though its ratings were never great, Community mostly coasted through its first few years in existence without any kind of major public incident – but that narrative changed in spring of 2012 as the show was wrapping up its third year. According to reports, the big inciting incident occurred during the final day of shooting for the season when Chevy Chase stormed off set without filming one of his scenes. Dan Harmon had an axe to grind as a result, and unfortunately chose the wrap party as a venue. The showrunner delivered what was called a "Fuck you, Chevy" speech to the crowd… which happened to include Chase, his wife, and his daughter.
Bad as that sounds, things then managed to actually get worse. After leaving the party early with his family, Chevy Chase called Dan Harmon and left him a rage-fueled voicemail – which the head writer then weaponized. At the time, Harmon was hosting a monthly comedy podcast that was recorded with a live audience in Los Angeles, and he made the choice to play Chase's message during one of the events. This led to the voicemail being leaked online, which naturally only exacerbated the conflict.
Dan Harmon Gets Fired From The Show After Season 3
Despite the fact that Chevy Chase has a nice long history of behind the scenes conflicts, it's pretty damn hard to read the section above and see Dan Harmon as the hero of the story – and that's actually a sentiment that Harmon himself found himself sharing as the situation blew up. The Community showrunner took to his personal online blog to issue a statement, and in his piece he not only apologized but assigned himself and his actions a litany of negative adjectives (not limited to "horrible," "childish," "self-obsessed," "unaware," "dumb," "unprofessional," "selfish baby" and "rude asshole.") It read as sincere, but it wasn't enough to remedy the conflict, and Harmon paid a significant price.
About a month-and-a-half after the Dan Harmon-Chevy Chase feud went public, Community got a textbook case of good news/bad news. The good news was that the show was getting renewed for a fourth season. The bad news was that Dan Harmon was not going to be involved. Moses Port and David Guarascio, best known at the time for their work on the sitcom Just Shoot Me!, were hired by Sony to serve as the new showrunners on the series. The announcement of the news said that Harmon would be credited as a Consulting Producer for future episodes, but the series creator was quick to dissolve that sugar-coating by saying that he was not going to have any input into new episodes and was only receiving a credit because of his contract.
Chevy Chase Leaves The Show After Season 4
The incident with the wrap party and the voicemail was definitely the most public conflict involving Chevy Chase and Community, but it should be noted that the relationships between the actor and the other people involved with the show weren't exactly sublime prior to all of that – and it's pretty easy to pick up on that if you just watch the show. Pierce Hawthorne is represented as an aging dotard in Season 1, but it's hard not to notice that he takes a serious antagonist turn in Season 2 and Season 3, and that was motivated by his relationship with Dan Harmon and the show's writers – specifically in that he showed them the kind of character he was best suited to play.
Chevy Chase arguably "won" when Dan Harmon got fired and Pierce Hawthorne lived on for another 11 episodes in Community Season 4, but the actor's time with the show ended there. In November 2012 (which, mind you, was about four months before Season 4 started airing), it was officially announced that the Chase was leaving the show. He didn't exactly leave with grace, saying in an interview around the time that being a part of the sitcom was a "big mistake," but the series showed some class. In addition to having Pierce Hawthorne graduate from Greendale Community College in "Advanced Introduction to Finality," the actor also cameoed as a hologram in the Season 5 premiere, "Repilot," and had an entire episode dedicated to his character's off-screen death ("Cooperative Polygraphy").
Dan Harmon Gets Rehired For Season 5
After yet another brush with cancellation, Community found itself still breathing in May 2013, NBC committing to another round of episodes from the sitcom, but that wasn't the only amazing news that month brought for fans. A few weeks after the renewal announcement, buzz started to spread around Hollywood that Sony was considering bringing back Dan Harmon as showrunner – with the buzz seeming very plausible thanks to the fact that Chevy Chase wouldn't be coming back as a series regular. It was only a few days after those rumor reports that Harmon personally confirmed that he was returning to his old job, and the network made it official a few weeks after that.
Neither NBC nor Sony ever issued any kind of explanatory official statement regarding why they rehired Dan Harmon following his termination, but fans at the time weren't exactly begging for one; we simply were happy that Season 5 would be helmed by the original creator. All we do know is that Harmon attributes his return to efforts made by star Joel McHale. Prior to being brought back, the Community showrunner said that he hadn't watched Season 4, but that changed by June 2013 (at the very least he needed to see what stories were told, what had been added to the continuity, and how the characters changed). He revealed his thoughts on the content saying that that he felt that the episodes were an "unflattering impression."
Donald Glover Leaves The Show In The Early Episodes Of Season 5
June 2013 was a blissful month for Community fans. For four-plus weeks, we got to live with the knowledge that A) Season 5 was on the way, B) that Dan Harmon was coming back, and C) that the most toxic element of the cast was gone. It was a nice bubble to live in for a while… but it popped on July 8th. That was the day it was announced that Donald Glover would not be appearing in the entirety of the new season, and would be making his departure from the show after the first few episodes.
The news was devastating for fans. Troy Barnes was loved as a part of Community because of his remarkable chemistry with Danny Pudi's Abed Nadir, but he was also arguably the heart of the show and the most consistently hilarious character. The actor made the decision to leave because he wanted to have more time to focus on his music, and in retrospect, it's damn impossible to blame him given that he has won five Grammy Awards in the time since. Unfortunately, Donald Glover's absence from the series created a hole that could never be filled, and Dan Harmon admitted years later that the show, for all intents and purposes, "died" when he left.
Community Moves From NBC To Yahoo! Screen
If you are wondering at this point if Community went on to become the first show to wait until its fifth season to become a smash hit, I have some disappointing news to drop on you: it didn't. The show had already established a pattern of its ratings slipping more and more each year, and Season 5 was a nadir. As a result, NBC made the decision to swing the axe and cancel the show. The dream of #SixSeasonsAndAMovie was swiftly killed… or at least that's how it seemed at first.
The network announced Community's cancellation in early May 2014, but not only did fans not give up on the show, Sony decided not to throw in the towel either. At first, things looked pretty dire, as both Netflix and Hulu opted to pass on Community Season 6, and Dan Harmon was expressing a bit of indifference. On the last day of June 2014, however, the series pulled off a Frankenstein act by inking a deal with the newly-formed Yahoo! Screen. Thirteen more episodes were ordered, with the door kept open for more pending great success.
Yvette Nicole Brown Is Unable To Return For Season 6
Getting a sixth season and one step closer to the goal of #SixSeasonsAndAMovie was huge for Community fans, but a few months after the Yahoo! Screen contract was closed, there were reports that yet another member of the Study Group/Save Greendale Committee/OG Greendale 7 would not be able to return. Prior to the start of production, Yvette Nicole Brown requested that she be released from her contract, as her father was sick and she wanted to be able to spend time with him – something she couldn't do with a five month production schedule made up of 16-hour work days. The actress continued to work during that time, taking a role in the short-lived reboot of The Odd Couple, but that was doable because the experience filming a four-camera sitcom is much more streamlined than a single-camera show like Community.
Yvette Nicole Brown's last performance as a lead on the show is in the Season 5 finale "Basic Sandwich," but that isn't the final appearance of Shirley Bennett. The character appears in the Season 6 premiere, "Ladders," to establish that she has moved to Atlanta, Georgia to take care of her father, and also taken a job as a private chef for a private investigator named Mr. Butcher (played by Steven Weber). She also has a brief cameo in the series finale – and to borrow a phrase from Shirley, it's really nice.
After Six Seasons, Community Comes To An End
Looking back, it's pretty amazing that Community lasted as long as it did. Its ability to continue was almost entirely perpetuated by the general weakness of the NBC lineup (the fact that there weren't any new shows demonstrating potential kept the network renewing the Dan Harmon-created series because it already had an established fanbase), and it had even managed to survive its first cancellation. Sadly, when the second cancellation announcement came down from above, it proved to be the true nail in the coffin for the show.
There never existed a great deal of potential for a Season 7 anyway, but the writing on the wall became much clearer in October 2015 when the biggest advocate for the show left Yahoo! Screen for another studio gig. It was ultimately shown that Yahoo! Screen was a failed effort, and it eventually shut down, but at the very least everyone who loves Community will always have a special place for it in their heart... and it's not the end of the story
The Community Movie Gets A Green Light From Peacock
As fans will remember, the dream of #SixSeasonsAndAMovie began with the Season 2 episode "Paradigms of Human Memory" – with Abed loudly proclaiming during one of the many flashbacks that the new NBC series The Cape would experience that kind of full run. As it turns out, The Cape only lasted one season, but Community fans took to seeing that length as the ideal totality for Dan Harmon's show, and now that hope is set to become a reality.
In September 2022, it was officially announced that a deal had been signed for Community: The Movie to be made as an original feature for the streaming series Peacock. Dan Harmon was confirmed to be co-writing the script with Andrew Guest (a Community writer from the first two seasons of the show), and the press release confirmed Joel McHale, Danny Pudi, Alison Brie, Gillian Jacobs, Jim Rash and Ken Jeong would all return to play their original roles.
Joel McHale Confirms Donald Glover Will Return As Troy Barnes In Community: The Movie
Looking at the list of cast members announced as part of Community: The Movie in the original press release, it's hard not to notice a couple of names missing. It's not surprising that Chevy Chase won't be back as Pierce Hawthorne (the character is dead, after all), but there was no mention of either Yvette Nicole Brown or Donald Glover. In November 2022, the former told Variety that she didn't know anything about Shirley Bennett's potential return in the feature, but in June 2023, Joel McHale confirmed Troy Barnes will be back.
The actor known for playing the role of Jeff Winger confirmed Donald Glover's involvement in Community: The Movie as a guest on Kelly Ripa's podcast. And while we know nothing yet about what we will see from Troy following his trip around the world with LeVar Burton, we are beyond excited to see his reunion with Abed.
Since 2009, Community has been recognized as one of the best comedies in modern network television, and its popularity has only grown thanks to its availability on streaming services. Do yourself a favor and keep watching (rewatches are quite rewarding), and stay tuned here on CinemaBlend as we continue to explore the weird and wonderful history of this amazing show.
Your Daily Blend of Entertainment News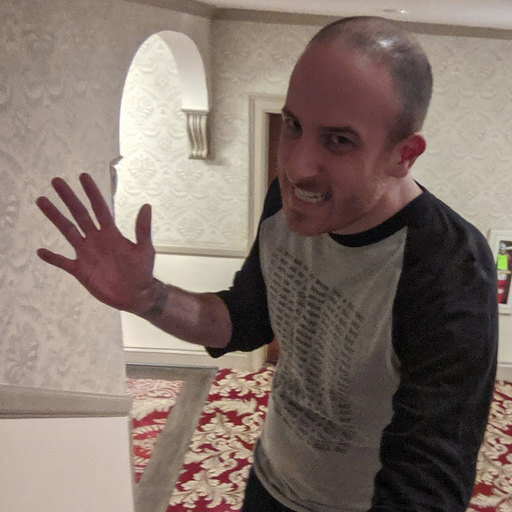 Assistant Managing Editor
NJ native who calls LA home and lives in a Dreamatorium. A decade-plus CinemaBlend veteran who is endlessly enthusiastic about the career he's dreamt of since seventh grade.