Could The Simpsons Be Getting Their Own Channel?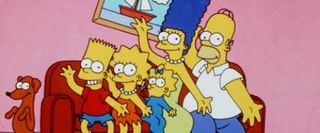 To be fair, this idea is almost already in effect if you're willing to, you know, flip through the already existing eight million channels. The Simpsons having been around for almost as long as I have been around, now entering its twenty-third season and closing in on 500 episodes, has a wealth of content. So much that it could sustain a channel of its own. And that just may happen.
According to SliceOfSciFi (opens in new tab) (via /Film (opens in new tab)) News Corp. Chief Operating Officer Chase Carey (I think if you name your kid Chase, he's going to be a executive) has shared the network's plans to have a channel dedicated solely to The Simpsons, which is apparently being considered "a possibility." However, the on-going success of the show, since it shows no sign of 'slowing down,' is what will ultimately delay the channel's existence due to rights issues.
Basically, before it can become a channel the show will have to stop making new episodes and allow the current syndication order to be fulfilled, then second cycle sales of the repeats start happening and voila, the channel can then be born. So, the channel may be all but inevitable, however, that doesn't mean we don't have a long time to wait for its creation. The series could easily run for 5 more years (a modest estimate), meaning Fox's channel dedicated to the Springfield-ians will be lucky to see the light of screens before the decade is out.
COO Carey said it's extremely important and viable to take advantage of the show since the show's place is, "unique in television with a volume too that is unprecedented." The series' volume is unprecedented, with about half of the content being pure genius. My hope is that when the channel is born, they run the series in order, over and over again. So every couple of days/weeks, when the cycle ends, I can tune in and catch the early episodes before tuning out the next few days when the later, crappier seasons air. Rinse, repeat.
For now, just keep flipping the dial because you're bound to find The Simpsons on somewhere. Also, tune in the 23rd season premiere on September 25 on FOX at 8 p.m.
Your Daily Blend of Entertainment News
Thank you for signing up to CinemaBlend. You will receive a verification email shortly.
There was a problem. Please refresh the page and try again.