Countdown To The Return Of The Sopranos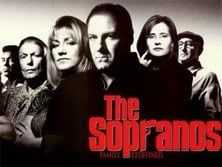 The gaps between 'The Sopranos' seasons are sometimes so long, that it's easy to forget the show exists. Once it's back and everyone is watching again, I'm sure it'll return to being America's favorite HBO obsession. But with the show restarting on April 8th maybe you need a reminder of why you used to be so locked in to the life of Tony.
In two days the first trailer for the new season will drop online, but to tide you over till then, HBO has released a pair of 'Sopranos' clips to help promote the return of television's favorite mob show, and we've got them for you. The first is a reflections piece, seen through the eyes of Tony Soprano. The second, a 'Sopranos' death montage. Let's face it, that's why you're all really tuning in.
Sopranos Reflections
Sopranos Death Montage
Your Daily Blend of Entertainment News
Thank you for signing up to CinemaBlend. You will receive a verification email shortly.
There was a problem. Please refresh the page and try again.