Craig Kilborn And Carrie-Anne Moss To Turn Up On Chuck This Season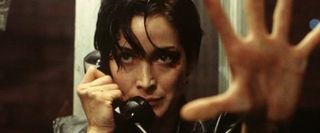 This was the year I gave up on Chuck.
It was a sad parting, but one that was at least a season overdue. It had been that long that I'd only been half paying attention to the show, and even though I watched every episode, I'd usually be hard-pressed to tell you what had happened on the show mere minutes after the closing credits. It just lost its magic for me. And that's saying something, given the presence of Yvonne Strahovski. Mostly, though, I just got freakin' tired of inelegant Subway product placement.
Still, Chuck has earned a fifth season, there are still plenty of fans clamoring for it. While they'll have to wait until October 21st to see what the new season has to offer, we've got two bits of casting news that give us a few hints.
First up, TVLine reports that Craig Kilborn will take on a villainous role in the season premiere. He'll be playing a character named Roger Bale, who is described as "a charming yet conniving investor who's stolen money from some of the world's most dangerous people." Hey, if Zachary Levi can be an action hero, why can't Craig Kilborn be a bad guy?
Also on board: The Matrix's Carrie-Anne Moss. EW's Inside TV blog has the word that Moss will be playing an old acquaintance and potential new love interest for John Casey. Her character, Gertrude Verbanski, is "a former spy who now runs Verbanski Corp, the chief rival of Chuck's new spy company. She's ruthless and deadly, yet she also has a weak spot for one John Casey -- her old rival."
Between these announcements and the earlier word that Mark "Luke Skywalker" Hamill will be playing a villain in the premiere as well, Chuck fans will have a lot to look forward to this season.
Your Daily Blend of Entertainment News