The Criminal Minds Spinoff Will Be Led By Gary Sinise, Get The Details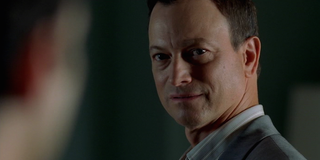 Gary Sinise has been hot on the television crime trail for several years now, helping put the bad guys behind bars in CBS' CSI series. When he retired his character Mac Taylor after an almost 10-year stint in the long-running installment CSI: NY, fans were left to wonder if their favorite crime fighter was officially done with the genre. Well, folks, apparently the answer is no as Sinise has just been announced as the lead in the upcoming Criminal Minds spinoff.
At this stage of the game, the highly anticipated spinoff is slated as a pilot. CBS' plan is to shoot the pilot in February and subsequently air it sometime after that "as a planted episode in the flagship series." According to The Hollywood Reporter, the show will have a broader appeal for international markets as it will center on the division of the FBI that focuses on helping American citizens who've found themselves in trouble abroad. Sinise will fill the shoes of 20-year bureau veteran Jack Garrett, the main man responsible for running the FBI's top team handling the out-of-country cases.
Criminal Minds showrunner Erica Messer is reportedly set to write the script and executive produce the crime show spinoff—duties she's certainly equipped to handle thanks to her work on the mother series. Mark Gordon and Nick Pepper are also set to produce alongside her for the ABC Studios, CBS Television Studios entry. A lot will probably ride on the success of the spinoff's pilot episode and if it gets picked up, there's still no guarantees it will survive. One only needs to look at the relative brief run of the previous spinoff Criminal Minds: Suspect Behavior that lasted only 13 episodes before it was cancelled.
Sinise has had quite the interesting career over the last few decades. He began working in television in 1980 with a role in Knots Landing and soon began toying with the crime genre a few years later with his appearance in Crime Story. He started getting recognition after directing and starring alongside John Malkovich in an adaptation of the John Steinbeck classic Of Mice and Men. After that he began focusing on his career on the big screen, minus his role in Stephen King's The Stand. He made a tremendous impact on viewers with his now-iconic Oscar-winning character Lieutenant Dan Taylor, a Vietnam veteran who lost his legs during the war in Robert Zemeckis' Forrest Gump. He then co-starred in a number of successful films including The Green Mile and Ron Howard's Apollo 13, before his return to television with his role of Mac Taylor on CSI: Miami in 2004. He was on the show for only a short time before branching off on the equally successful sister series CSI: NY.
Since CSI: NY's departure in 2013, Sinise has largely been absent from screens, both big and small, due to his desire to focus solely on making a difference through his namesake foundation. The Emmy-winning actor only recently returned to acting with a narrator credit in Marvel's Captain America: The Winter Soldier.
Your Daily Blend of Entertainment News
Thank you for signing up to CinemaBlend. You will receive a verification email shortly.
There was a problem. Please refresh the page and try again.