Da Vinci's Demons Season Two Premiere Date Set, Plus A New Trailer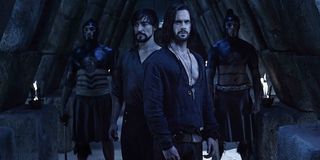 Fans of Da Vinci's Demons have known for awhile that the series would see another season on its home channel of Starz, but today at the Television Critics Association press tour in Pasadena, California, that season two's start date was officially set in stone. And they even supplied us with a new trailer to boot, giving us another glance at the future ahead of us in David S. Goyer's fantastical interpretation of the visionary's past — fairly apropos, all things considered. It's like the TV version of predicting the future.
The historical flight of fancy from the mind of David S. Goyer (better known for his work as co-writer on The Dark Knight Trilogy for all the Christopher Nolan obsessives out there) will return to Starz on Saturday, March 22nd at 9PM, furthering the fictionalized take on Leonardo da Vinci's early days as a multi-hyphenate in Renaissance era Italy. So, yes, for those of you who did not tune into season one of the series: it's ambitious. Very much so.
Of course that's all to be expected from Goyer and his graphic novel approach. In an interview with The Hollywood Reporter, he spoke to the obsessive nature of telling a story like da Vinci's with a fantastical, almost superhero-esque quality. "I read every one of his 6,000 journal pages and sketches. I went to Florence, Rome, Milan, the British Museum and got to handle actual Da Vinci pages. I talked to a lot of experts, I read as much as I could and did about four months of pure research where I immersed myself in his life and in the world. I also did a lot of research on other polymaths like J. Robert Oppenheimer because as much as I was interested in the past, we're also interested in how the past can form the present."
And the past and present collide when da Vinci is forced to reevaluate everything he knew about the world and his own life. Starring Tom Riley as the title character, season two of Da Vinci's Demons will find Florence in chaos following the infamous Pazzi conspiracy. Because of this da Vinci must fight for his city while the forces of Rome plot against it. Pushing the limits of his own mental and physical prowess, he will continue his quest for the Book of Leaves in order to uncover his mother's shrouded-in-secrecy personal history. Meanwhile the Medicis continue to do unspeakable and unfathomable things in order to keep power while new threats arise while Lorenzo falls gravely ill. New enemies will also come to da Vinci, perhaps even worse than previous archenemy, Pope Sixtus IV.
Your Daily Blend of Entertainment News
Thank you for signing up to CinemaBlend. You will receive a verification email shortly.
There was a problem. Please refresh the page and try again.