Dourdan's Departure Leaves CSI At Least 60 Percent Less Hot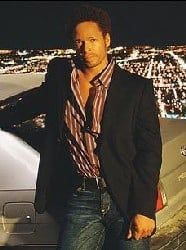 I haven't watched CSI in a few years, so when news of Jorja Fox's (Sara Sidle) departure broke at the beginning of this season, my reaction was basically, "eh." However, upon hearing the news that Gary Dourdan (Warrick Brown) is following her out the door, my first thought was "noooooo." Yes, I know that it's silly, but whatever. The plain, simple truth of the matter is this: he's hot.
TV Guide is reporting that Dourdan, whose contract expires next month, has already informed producers that he is leaving the long-running procedural. While there is no official word on when his last episode will be, sources are saying that it could be as early as the May 15th season finale. Co-star and CSI producer William Petersen recently seemed to be edging toward the door as well, but managed to reach a deal that's keeping him on the show through the 2008-2009 season. Marg Helgenberger and George Eads are also expected to renew their contracts.
While CBS is not officially confirming Dourdan's departure, word is CSI producers are already on the lookout for a replacement. A casting call is out for a new character named Ray Santoro, a "handsome, smart and athletic" CSI (is there any other kind?) who transfers to Vegas from Henderson.
Will Fox and Dourdan's departures hurt the series? Or do you think it will live on for decades with an ever-revolving cast like E.R.? Feel free to post your thoughts below.
Your Daily Blend of Entertainment News
Your Daily Blend of Entertainment News
Thank you for signing up to CinemaBlend. You will receive a verification email shortly.
There was a problem. Please refresh the page and try again.