Downton Abbey To Launch Merchandise Including A Fashion Line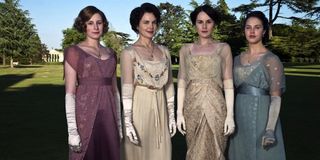 Downton Abbey fans may not be able to live like Lord and Lady Grantham and their family, but coming soon it will be possible to dress like them. As the show heads into Season 4 overseas, it's set to become not only a popular series but also a brand of clothing as well as several other product lines. Get those credit cards ready.
After wrapping its third season here in the US to strong ratings with a dramatic finale, Downton is ready to capitalize on its own popularity. CNBC says the people behind the show are ready to go forward with a line of Downton-themed products in 2013. Among them well see a fashion line that will satisfy what appears to be a growing interest in Edwardian-era clothes including long gloves and cravats. While I believe sales of these items are up since Downton became a worldwide phenomenon, I can't say I've noticed anyone walking around wearing a cravat in my neighborhood.
Among the other products headed for retailers in the coming months are household goods, furniture, stationary, and even beauty products. Gareth Neame, head of Carnival Films which produces Downton Abbey says the approach to starting this line of products has been "extremely cautious". He added:
After Season 3 left fans mourning the loss of two major characters - Lady Sybil and Matthew Crawley, followed by the announcement that another star, Siobhan Finneran is also departing the show, Downton's future may seem a little unsure. They've been busy casting for the new season and hopefully manage to replace the missing faces successfully – and maintain the popularity required to support the new venture into retail.
There's no word yet on a premiere date for Downton's new season, or on where we'll see the product lines for sale, but we'll let you know when there's news.
This poll is no longer available.
Your Daily Blend of Entertainment News
Thank you for signing up to CinemaBlend. You will receive a verification email shortly.
There was a problem. Please refresh the page and try again.