Downton Abbey Writer Explains Season 3 Premiere's Missing Moment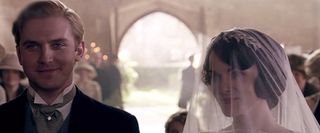 Last night's Downton Abbey premiere brought fans a few long-awaited moments, but it seemed to many fans – myself included – that one of the biggest moments was cut a little short unexpectedly. Today the show's executive producer Gareth Neame answered why the decision was made to skip a big scene.
The moment I'm talking about of course is the wedding of Mary and Matthew, the moment that the entire series has been leading up to since the first episode, in which Matthew became the unexpected heir to Downton. After a last-minute cancellation is averted with a beautiful romantic scene at Mary's bedroom door, the wedding day dawns and Mary rides to the church like a princess in a carriage. It's a big moment, one we have all been waiting for. Lord Grantham escorts her to Matthew's side where he remarks that he half-expected she wouldn't show. She replies "I wouldn't want to be predictable." And that's it. No vows, no "I do" and no kissing of the bride.
Today, EP for Downton Gareth Neame defended the decision to cut off the wedding scene to EW, saying they didn't want to be repetitive.
Yes, we have all seen an on-screen wedding before, and no, there's nothing new about it. But for fans of the show since day one, it was a big moment, and the decision to cut it short obviously took a lot of people by surprise. It could be that with another potential wedding in the future (Lady Edith seems likely to walk down the aisle next), it might have been one too many weddings this season. Still, if they were going to cut anything I could have done with less of Mary preparing for the wedding and a little more of the ceremony. Lady Mary's quip was fun, and very much in character, but I'm sure I am not the only viewer who would have liked to see her say "I do".
Your Daily Blend of Entertainment News
Your Daily Blend of Entertainment News
Thank you for signing up to CinemaBlend. You will receive a verification email shortly.
There was a problem. Please refresh the page and try again.