A&E Renews Summer Programming Including Storage Wars and Shipping Wars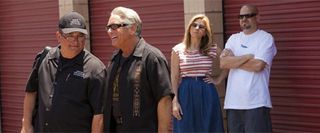 Between Storage Wars: Texas' success and Storage Wars regular Dave Hester complaining parent network A&E was not offering him enough money to continue the show, I was not certain the highly successful reality program would live to see its third season. Apparently, Hester is more talk than action, though, or A&E actually caved and gave him what he wanted, because the "Yuuup" man and the rest of the cast will return this summer for some brand new storage auction adventures.
A&E has renewed storage unit battle shows Storage Wars and Storage Wars: Texas, as well as freshman realty program Shipping Wars after each brought in respectable numbers over the past season. According to Deadline, the Season 2 premiere of Storage Wars brought in 5.1 million total viewers—a showing that is higher than any other TV show broadcast on A&E, ever. Both in their first season runs, Storage Wars: Texas premiered to 4.1 million viewers and Shipping Wars, which follows independent truckers bidding for loads, brought in 3 million viewers in its first episode.
Even without Storage Wars, A&E would have had a pretty solid chunk of reality going on its similarly themed summer programming schedule. Now, with everyone's least favorite villain back on board to battle hard bargainer Darrell Sheets, the newbie Jarrod, collector Barry, and the fair Brandi for various valuables, I wonder if Season 3 will be Storage Wars' and A&E's most successful summer yet?
Your Daily Blend of Entertainment News
Your Daily Blend of Entertainment News
Thank you for signing up to CinemaBlend. You will receive a verification email shortly.
There was a problem. Please refresh the page and try again.