Elizabeth Keener Gets A New Show To Star In and Develop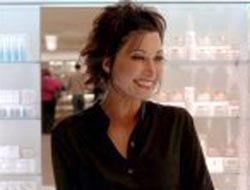 Twin Peaks was one of the classic TV shows, in my humble opinion. I loved it. My parents loved it. We all loved it so much that we recorded every episode on VHS, diligently pausing for commercials. There hasn't been anything as uniquely creative and strange and awesome since, but don't give up hope! Gay network Here! is developing a brand new show featuring The L Word's Elizabeth Keener (sister of the slightly more famous Catherine Keener).
Hollywood Reporter says that the show "will center on a lesbian FBI agent (Keener) sent on an extended undercover assignment in a mysterious small town. Keener's character juggles personal demons with the demands of her investigation and soon finds herself increasingly enmeshed in the lives of the town's inhabitants." Keener will be starring in, and developing the show.
Gay network Here! is touting it as a sort of marriage of Twin Peaks and Silence of the Lambs. I find this interesting, and though I have fallen asleep every single time I've tried to watch Silence of the Lambs - I won't hold that against this compelling new show. I really can't wait to see this one!
Your Daily Blend of Entertainment News