Ethan Hawke And Vincent D'Onofrio Team Up For Cop Drama On NBC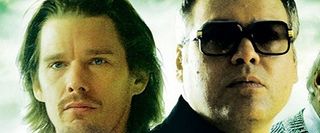 Two big names have come together in a new cop drama for which NBC has already made a production commitment. Ethan Hawke and Vince D'Onofrio will play two homicide detectives with very different personal lives in the series, which is reportedly starting production on the pilot in NYC -home to both stars – by year's end.
According to Deadline the show was conceived by Chris Brancato – the writer and producer is well known to D'Onofrio since they worked together on the final season of Law & Order: Criminal Intent. D'Onofrio and Hawke are buddies who have worked together in the past. It seems it took the three men working together to bring the new series to life, and NBC jumped at the chance.
The series is called Blue Tilt, apparently a term used for cops who start to crack under the pressure of working the worst of the homicide cases, and require psychiatric observation in case they start to become a danger to themselves or to others. It's a telling sign for the direction the show will take. The two stars will play long time homicide detectives, one of whom is married and one divorced, and the series will revolve around their work and their personal lives as well.
I'm looking forward to seeing the dynamic between the two; D'Onofrio has been on my radar as personal favorite since the not-so-well known film The Salton Sea with Val Kilmer. Hawke had me at "Oh Captain, my Captain!" It's safe to say I'm a fan of both; this pairing shows real promise for a hit for NBC, even as worn out as the stressed-out cop storyline has become.
Your Daily Blend of Entertainment News
Thank you for signing up to CinemaBlend. You will receive a verification email shortly.
There was a problem. Please refresh the page and try again.