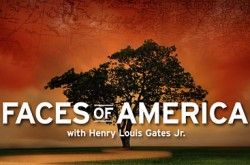 PBS's new mini-series event, Faces of America explores the history of the American immigrant culture by delving into the pasts of 12 significant Americans, including Kristi Yamaguchi, Stephen Colbert, Eva Longoria and Meryl Streep. Hosted by Henry Louis Gates, Jr. Gates undertook similar studies in 2006 and 2008 with African American Lives and its sequel.
This time, he uses the specific stories of these celebrities' ancestry to offer a wide-ranging look at the history of this country. Through the selected participants, the series is able to explore both positive and negative experiences in this country, with a focus on how their racial, ethnic and religious backgrounds impacted their families' experiences through the years.
The participants include:
Elizabeth Alexander is a professor, poet, essayist and playwright of African-American descent
Mario Batali is a world famous 'Iron Chef' of Italian descent
Stephen Colbert is a comedian, pundit and host of his own show of Irish descent
Louise Erdrich is an author who often reaches into her Native American heritage for inspiration
Malcolm Gladwell is a journalist and author of British-Jamaican descent
Eva Longoria is an actress and star of 'Desperate Housewives' of Mexican American descent
Yo-Yo Ma is a cello master of Chinese descent
Mike Nichols is a writer and producer for television and film of German-Russian Jewish descent
Queen Noor of Jordan is of Syrian, British and Swedish descent
Dr. Mehmet Oz is a surgeon and star of his own daytime talk show of Turkish Muslim descent
Meryl Streep is one of the most celebrated actresses of the modern era of German, Swiss, Irish and English descent
Kristi Yamaguchi is a gold medal winning figure skater of Japanese descent
While it might seem a little boring to look at the genaeology of someone else's life, because of the diversity showcased in the above list, it really became a unique way to look at the history and heritage of what it is to be American today, and what it has meant throughout the history of this nation.
The four-part series premiered last night, Wednesday February 10, 2010 and continues weekly through March 3 at 8 PM ET. But fear not, the first episode is available live and streaming right now, right here so you can catch up right away. It really will surprise you about the immigration experiences of many early Americans, and will probably make you curious to seek out your own heritage.
My own lineage includes German, Irish, English, Native American and African-American descent so I knew there's a lot of interesting stories there. One of the points of the show is that we seem to take our past for granted, and most of us don't know much about where we came from, and the struggles that people in our pasts have made to allow us the freedoms and opportunities we're enjoying today. It's a wonderful sentiment that can even help you appreciate your own struggles more, as they're building the ancestry of your children's children as well.
Your Daily Blend of Entertainment News
Your Daily Blend of Entertainment News
Thank you for signing up to CinemaBlend. You will receive a verification email shortly.
There was a problem. Please refresh the page and try again.