The Flash Just Cast A Vengeful Villain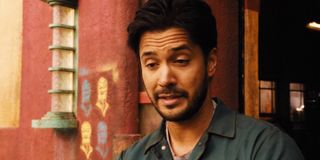 Now that this year's crossover with Arrow is over, The Flash can get back to its normal routine of fighting metahumans in Central City. We've already seen Barry go up against a diverse collection of superpowered adversaries this season, both from Earth-One and Earth-Two, but he's about to tangle with one of the weirder enemies from the Scarlet Speedster's history. First introduced in 2001, Tar Pit will make his live action debut soon, and he'll be played by Heroes Reborn actor Marco Grazzini.
The Flash's Tar Pit is described as a "vengeful" metahuman who is able to transform himself into molten asphalt. When he first encounters Flash, his ability will give him an advantage in their battle, as the Scarlet Speedster finds the "literally shifting beneath his feet." There's no word from Comicbook.com on when he'll make his debut, but with the series about to go on hiatus, we likely won't see him until at least late January or even sometime later.
In the comics, Tar Pit was originally Joey Monteleone, the younger brother of crime lord Jack Monteleone. Uninterested in the "family business," Joey focused his attention on petty crime, but was eventually arrested and imprisoned in Iron Heights. While serving his time, he discovered he had the ability to project his astral self into inanimate objects. So despite being stuck behind bars, he was able to transfer himself into objects on the outside to cause chaos. Eventually he chose a vat of tar as his vehicle, then discovered that he was stuck in the tar permanently. Unbothered by this development, Joey renamed himself Tar Pit and continued his life of crime in this new form, mainly fighting with Wally West, while his human body remained in a coma at the prison.
While The Flash has been able to produce a lot of cool visual effects so far this season (most exemplified by Grodd and King Shark), something tells me that the Tar Pit we see on The Flash won't resemble his monstrous comic book counterpart. The description of Grazzini's Tar Pit says he is "able to transform," suggesting that he can willingly control this ability rather than be permanently stuck in one form. The show took a similar route last season with Tony Woodward, a.k.a. Girder, who resembled Marvel's Colossus more than his hulking self from the comics.
Grazzini was most recently seen as Oscar Gutierrez, brother of Ryan Guzman's Carlos Gutierrez, several months ago on Heroes Reborn. His other work includes playing Detective Billings in Beauty and the Beast (the CW series), Gonzalo Silas in The Art of More and voicing Alejandro in Total Drama.
The Flash's midseason finale "Running to Stand Still" airs next Tuesday at 8 p.m. EST on The CW, and following that the show will go on its winter break until early next year.
Connoisseur of Marvel, DC, Star Wars, John Wick, MonsterVerse and Doctor Who lore. He's aware he looks like Harry Potter and Clark Kent.
Your Daily Blend of Entertainment News
Thank you for signing up to CinemaBlend. You will receive a verification email shortly.
There was a problem. Please refresh the page and try again.