Fox To Air Preview Of Adventure Series Terra Nova In May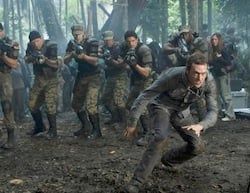 Among the announcements Fox made today was the premiere date and some interesting information on their upcoming new series Terra Nova.
Looking at the description Fox released on this exciting sounding series, it makes sense that the show would start off with a preview this spring followed by the official premiere in the fall. If the beginning of this adventure is as interesting and exciting as it sounds, we'll be have months to look forward to (and Fox will have months to promote) the fall premiere. Centering on a family that travels back in time in an effort to save mankind, the premise sounds like something from a movie. Below is the information Fox released on Terra Nova.
Your Daily Blend of Entertainment News
Thank you for signing up to CinemaBlend. You will receive a verification email shortly.
There was a problem. Please refresh the page and try again.