Friday Night Lights' Connie Britton Headed For Nashville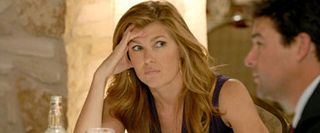 Veteran actress Connie Britton must have a great manager. After segueing smoothly from her role as Tami Taylor on the underwatched but awesome Friday Night Lights, Britton moved straight to starring in the first season of American Horror Story, where she played Vivien Harmon on the frightening melodrama. Now, it seems another smooth segue into a leading role has occurred. This time, Britton will be headed to ABC to star in another drama.
Britton is set for a role on Nashville, a new pilot that will follow the antics of an aging country singer who learns that in order to stay relevant, she will have to team up with a much younger name in the country music business. Hayden Panettiere has already signed on to play teen star Juliette Barnes and now Deadline is reporting Britton is on board to play 40-year-old singer Rayna James.
While the pilot echoes a little bit of the old-star-making-way-for-the-new featured in the 2010's Country Song, the focus in Nashville should be a whole lot different, with Britton's character written as a mom who brings in the dough for her husband and kids and just really wants to figure out how to make her records sell once more. We've seen Britton play characters involved with family before, but this time around there will be a little glamour and some spotlight to boot. I can't say I hate the idea.
Your Daily Blend of Entertainment News