Futurama: Volume 6 Hits DVD And Blu-Ray On December 20th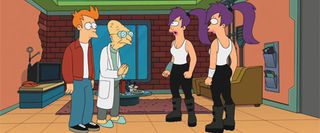 If you feel like it's been a long time since the 6th season of Futurama started, you are right. Season 6 began airing in the summer of 2010, continuing to air episodes until this past September. Season 6 of the Matt Groenig-created show features a 4-dimensional giant space whale, alien eggs, and even an episode where Fry (Billy West) joins the police academy. If you missed out on any of this, there will soon be a home release. Unfortunately, like other volumes of Futurama, Futurama: Volume 6 will not come as a full season set.
Futurama: Volume 6 will hit DVD and Blu-Ray on December 20 and will feature 13 of the 26 episodes from Season 6. It's always kind of a bummer when the full season episode set is not available, but 20th Century Fox Home Entertainment has been pretty good about putting together special features for the disc. The Volume 6 set will come with deleted scenes as well as audio commentary on each of its two discs. Several featurettes will also come as extras including "The Music of Futurama," "Reincarnation Explained," featuring director Peter Avanzino, and "Professor Farnsworth's 'The Science of a Scene.'" A segment on questions from fans and an F.A.Q. bit will round out the bonus features.
Overall, if you are a fan of the show, Futurama:Volume 6 seems like a pretty solid set. If you're interested, you can head over to Amazon to preorder, or check out the episode list, below.
[[ disc ]] <="" u="">
[[ disc ]] The Silence of the Clamps
[[ disc ]] Mobius Dick
[[ disc ]] Law & Oracle
[[ disc ]] Benderama
[[ disc ]] The Tip of the Zoidberg
[[ disc ]] Ghost in the Machines
[[ disc ]] Neutopia
[[ disc ]] Disc 2:
Yo Leela Leela
Fry am the Egg Man
All the Presidents' Heads
Cold Warriors
Overclockwise
Reincarnation
Your Daily Blend of Entertainment News
Thank you for signing up to CinemaBlend. You will receive a verification email shortly.
There was a problem. Please refresh the page and try again.