The Funniest Shows On Hulu Right Now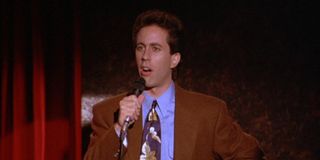 The beautiful thing about Hulu that sets it apart from almost every other streaming service is how gargantuan its library of TV shows (and even movies, too,) is. I mean, the practically have everything you could ask for, and in whatever genre you please, especially. From iconic classics like Seinfeld to modern classics like Brooklyn Nine-Nine, as a subscriber to this service, you will never go hungry for laughter again.
That being said, a selection of sitcoms as vast and versatile what is included on Hulu can be quite overwhelming. One day, you're in the mood for some family-friendly hijinks, the next you want some sketch comedy, and maybe in that same day you want something animated but with a little edge to it. But where do you even begin your search?!
Step One: calm the heck down. Step Two: take a gander at my recommendations for some of the funniest TV shows you can find on Hulu. Step Three: sit back and have a good laugh with this 15 fifteen hilarious programs from the past and present.
Modern Family (11 Seasons)
Focusing on the daily struggles of an aging divorcee (Ed O'Neill) and his young Colombian wife (Sofia Vergara), his daughter (Julie Bowen) and her spouse (Ty Burell) who is often more childish than their own children, and her younger brother (Jesse Tyler Ferguson) raising an adopted daughter with his husband (Eric Stonestreet), this Emmy-winning mockumentary style ABC sitcom authentically, and tastefully, defines what it means to be a Modern Family.
Stream it on Hulu here.
The Golden Girls (7 Seasons)
A quartet of single women, including the down-to-Earth Dorothy (Bea Arthur), her outspoken mother Sophia (Estelle Getty), the dim but endearing Rose (Betty White), and romantically active Blanche (Rue McClanahan) prove that, despite having entered their golden years, they have not yet lost their biting sense of humor while learning to survive each other as roommates in Miami.
Stream it on Hulu here.
Rick And Morty (4 Seasons)
Somehow this animated parody of Doc and Marty McFly's relationship in Back to the Future (as well as pretty much any other sci-fi property you can think of), from co-creators Dan Harmon and Justin Roiland (who also provides the voice of both alcoholic mad scientist Rick and his meek grandson Morty), has become one of the most highly acclaimed and fiercely anticipated (only four seasons in seven years? Come on!) science fiction series on television in recent memory.
Stream it on Hulu here.
Saturday Night Live (22 Seasons)
If you are only a fan of the first five and most recent 16 seasons of Saturday Night Live, you are in luck because that is all that is available to stream on Hulu of this iconic and extremely long-running sketch comedy series traditionally broadcast live from Studio 8H in New York City's Rockefeller Center, which boosted the careers of some of the biggest names in comedy and brought out the funny side of Hollywood's most respected stars.
Stream it on Hulu here.
Seinfeld (9 Seasons)
Chronicling the dysfunctional relationship between New York comedian Jerry, (Jerry Seinfeld), his ex-girlfriend Elaine (Julia Louis-Dreyfus), his eccentric neighbor Kramer (Michael Richards), and his neurotic lifelong pal George (Jason Alexander), this epic staple of sitcom legend, created by Seinfeld and Larry David, has gone further than any show about nothing has ever gone before. If you do not still laugh when Kramer backs out of the Contest, George has an embarrassing experience with "shrinkage," Elaine shows off her unique dancing skills to her co-workers, or Jerry unwittingly agrees to wear a "puffy shirt" on Today, then no show for you!
Stream it on Hulu here.
Atlanta (2 Seasons)
I might be cheating by including this Emmy-winning FX original, because Atlanta, starring creator Donald Glover as a penniless college dropout who takes on the responsibility of managing his cousin, a rising star in the rap scene (Brian Tyree Henry), is more than just a comedy, but almost a dystopia of surrealist mundanity (a fitting, yet possibly unprecedented, combination of words) that can make you laugh, cry, frighten you, or leave you ultimately bewildered by its stunning creativity and brutal honesty.
Stream it on Hulu here.
Letterkenny (7 Seasons)
Speaking of dystopias of surrealist mundanity, this Hulu exclusive series based on star and creator Jared Keeso's Twitter account mocking the dysfunctionally diverse culture of rural Canada (ranging from beer swilling hicks to mischievous goths and air-headed hockey players) is a fast-paced, dialogue-driven, satirically eccentric ensemble comedy that exists its own world entirely: a fictional small town called Letterkenny.
Stream it on Hulu here.
Brooklyn Nine-Nine (7 Seasons)
Because there is just no fun in watching cops who are good at their jobs on TV anymore, we are thankful to have Brooklyn Nine-Nine. Originally airing on Fox before NBC saved it from cancellation, this Golden Globe-winning workplace comedy disguised as a crime procedural stars Saturday Night Live vet Andy Samberg and former star of Homicide: Life on the Street Andre Braugher, who lead the hilarious ensemble cast amid clever cop show send-ups.
Stream it on Huluhere.
Bob's Burgers (10 Seasons)
Bob Belcher (H. Jon Benjamin) struggles to keep his restaurant, aptly named Bob's Burgers, in business and his sanity intact as he and his eccentric family endure a series of unusual, yet oddly relatable, mishaps in this animated culinary comedy (easily the sweetest and most endearingly quirky of anything on Fox's Animation Domination slot) that has even inspired an actual cookbook and an upcoming feature film spin-off.
Stream it on Hulu here.
Coupling (4 Seasons)
Most people like to think of it as "the British Friends," but I personally like to call Coupling "the better Friends." Steven Moffat, future writer of the 21st Century reboot of Doctor Who and co-creator of the 21st Century reimagining of Sherlock, crafts this semi-autobiographical sitcom, chronicling the uproarious escapades of six adult friends in London, into a barrage of blistering satire on the complications of modern romance that may be more risqué, yet still enduringly relevant and breathtakingly clever, almost two decades after its final episode.
Stream it on Hulu here
Key & Peele (5 Seasons)
Before they were battling Predators or writing and directing Oscar-winning satirical thrillers, Keegan-Michael Key and Jordan Peele were a couple of talented comedians who first met as cast members on Fox's MadTV. would eventually take the world by storm with their own self-titled sketch series, Key & Peele, on Comedy Central that cemented them as one of the most brilliant and irreverent duos in comedy, with segments that range from a name pronunciation-challenged substitute teacher to a man hired to translate President Barack Obama's words into furious rants.
Stream it on Hulu here
DAVE (1 Season)
Are you one of the many people (myself included) who are still saddened by the overlong absence of the aforementioned rapper's delight that is Atlanta? I think you may find just the right solution you are looking for in this similarly relatable yet surreal new FXX comedy co-created by and starring satirical rapper Lil Dicky (going by his real-name, Dave Burd, in the credits and on the show) in a semi-autobiographical account of his own rise from Jewish amateur wordsmith to hilarious internet sensation.
Stream it on Hulu here
I Love Lucy (6 Seasons)
You cannot talk the greatest comedies in television history without referencing I Love Lucy, a multi-Emmy winning show that practically is television history and stars the incomparable Lucille Ball and her real-life then-lover Desi Arnaz as a couple whose relationship is constantly tested by Lucy's compulsive schemes to land a career in show business like her husband, leading to some of the most memorably and unmatched uproarious moments of all time.
Stream it on Hulu here
The League (7 Seasons)
Whatever your opinion is regarding fantasy football, I at least hope that you do not take it nearly as seriously as the members of The League, a shamelessly crude FX comedy starring Mark Duplass, Steve Rannazzisi, Katie Aselton, Nick Kroll, Paul Scheer, and Jon LaJoie as a group of average suburbanites who to above average (and sometimes nearly sadistic) lengths to outwit each other in a competition for the perfect lineup.
Stream it on Hulu here
South Park (23 Seasons)
Speaking of average suburbanites who frequently teeter on sadism, a group of grade school children from the titular, fictional Colorado town of South Park are plagued by outrageous political incorrectness, embarrassing run-ins with celebrities, and the repeated deaths of their friend, Kenny, in this long, long-running animated Comedy Central original. Creators Trey Parker and Matt Stone's brand of irresistibly cruel satire of anything that lives and breathes has inspired an Academy Award-winning, feature-length musical spin-off in 1999 and also garnered enough controversy to be banned in China.
Stream it on Hulu here
What do you thinK? Are these TV shows, old and new, just what a Hulu subscriber needs to keep them laughing until they cry, or are you crying over how laughably mistaken I am to have selected these recommendations for this list? Let us know in the comments and be sure to check back for more hilarious streaming recommendations here on CinemaBlend.
Jason has been writing since he was able to pick up a washable marker, with which he wrote his debut illustrated children's story, later transitioning to a short-lived comic book series and (very) amateur filmmaking before finally settling on pursuing a career in writing about movies in lieu of making them. Look for his name in just about any article related to Batman.
Your Daily Blend of Entertainment News
Thank you for signing up to CinemaBlend. You will receive a verification email shortly.
There was a problem. Please refresh the page and try again.