The Gilmore Girls Cast Reunited And It's As If They Never Left Stars Hollow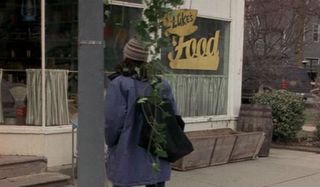 Yesterday, a Gilmore Girls reunion panel was hosted at ATX Television Festival and all of the major cast members came out to celebrate. Looking back at their time on the cult-followed series, many of the celebrities attending have now gone on to become movie stars and TV stars galore, but all looked just as happy and content to be back with their Stars Hollow family.
The long-overdue reunion was quite the trip down memory lane, as the cast and creator Amy Sherman-Palladino shared everything from what lied in Luke and Lorelai's future to who was best for Rory to whether or not a reboot of the fan favorite CW series is in our future (via Hollywood Reporter). There were so many highlights that fans of the series can revel in. Wondering who the cast thought was the best match for Rory? Well, Milo Ventimiglia who played Jess on the series put his two cents in stating, "Logan was a dick!". But Scott Patterson aka Luke put the debate to rest when he claimed, "None of you are good enough for Rory".
In regards to the other driving romance of the series, Luke and Lorelai, Lauren Graham (Lorelai) seems to think the two ended up together. Graham didn't hold back either, expressing her own disappointment in the series ending without Amy Sherman-Palladino and therefore her dissatisfaction with the ending. But she did add that "I think they are together—100 percent" and that "they probably did" get married.
As for a movie follow-up, Patterson added, "I think it's kinda time, don't you?" And we couldn't agree more. Sherman-Palladino expressed that she knows exactly how she wanted the series to end, but will hold on to it till her deathbed. She said:
And that's the key element to a follow-up. Everyone needs to be on board for a successful go-around. And from the looks of the reunion, that endearing Stars Hollow sense of community is still going strong.
Oh and don't worry, Hep Alien wasn't left out of the fun. They're still going strong, rockin' out and continuing to be one of the greatest fictional bands of all time.
For all of us hardcore Gilmore Girls fans out there we can still keep pushing for a movie follow-up. It's only fitting that Amy Sherman-Palladino gives us the ending it deserves. She didn't disappoint us with creating the beloved series.
Your Daily Blend of Entertainment News
Your Daily Blend of Entertainment News
Thank you for signing up to CinemaBlend. You will receive a verification email shortly.
There was a problem. Please refresh the page and try again.