Girls Watch: Season 2 , Episode 9 - On All Fours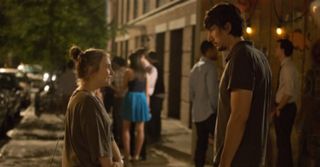 "I don't think I liked that."
Now that "On All Fours" has uncomfortably crawled away, there's only one episode remaining in the up-and-down second year of Girls. The series started to struggle right around mid-season, perhaps the bar was set too high with the first four fantastic installments, however, Lena Dunham's series seemed to rise out of the slump with the aptly titled "It's Back" and "On All Fours" not only continued the comeback, but also nicely set up the HBO dramedy for next week's season finale. To be fair, dramedy might not be the right word for Episode 9 because last night was really lacking in laughs, save a few cringe induced chuckles. The lead in to the finale certainly wasn't lacking in the drama department though, with all the Girls, as well as the boys, experiencing their fair share. Well, except for Jessa cause, you know...
"Please, level with me. Are you sick of me?"
Anyway, while Hannah's best friend is still no where in sight, the latter's young cousin continues her troubled but sweet relationship with Ray. As we all know, "It's Back" saw Shoshanna engage in an indiscretion, or holding hands, with an abnormally attractive doorman and the guilt is not sitting well for the normally forthright and upstanding former virgin. Luckily for her there is enough side-crazy going on at Charlie's party to keep Ray distracted for most of the episode, whether he's helping Marnie out in the 'Mac-Arts' or giving it to his former best friend for selling out, but eventually the good girl has to come clean. After a bit of berating, of course. In a nice twist, Ray shows his maturity by not really giving a shit that Shoshanna sowed a few oats, as long as the weirdo still wants to be with him. I'm not sure if the look on her face was supposed to suggest that she's unsure about the relationship or just surprised that he took the news so well.
"She's still going."
Someone who doesn't take bad news well (or change at all really), is Marnie and she had another push and pull episode with Charlie. Her limp-dick former boyfriend isn't so limp anymore and even Shoshanna finds herself admitting how the successful young CEO (of whatever the hell he is at Forbid) could bed anyone at his party, including her and I thought for sure it was going to be the hipster blonde who called Marnie Maggie. That's probably in the near future, or maybe they already have, because there is no way that the hookup will amount to anything meaningful. I don't think. It was pretty obvious when Charlie told Marnie a few episodes back that she wouldn't ever get any of that (that being him) again that the two would soon end up screwing each other, but no one could have foresaw the circumstances. When she took the microphone it was absolutely horrifying and only got worse as she continued the (amazingly) awful rendition of Kanye West's "Stronger" even though it was clearly not going over with the crowd. Great moment, I'm still cringing thinking about Williams' wonderful performance.
"I can't wait to not read those."
Hannah, on the other hand, had a rather lonely week, choosing to miss out on all the parties in order to work on her book, OCD-out and injure herself with a Q-tip. Talk about cringing. Ick. Last week introduced the new/old affliction for the lead, something that seemingly came out of nowhere but definitely fits with her character, and getting bad news about her memoir isn't going to help. I mean, she was already picking her wedgie eight times on the elevator ride up and that was before the editor delivered the disinterested news. And the 'non-fiction to novel' remark might be another little meta-comment on Girls itself, signalling the transition from this show of personal experiences into a broader story written by more voices. Or I'm just over-thinking it, trying not to think about Dunham digging that Q-tip further and further into her ear either time. I also loved the exchange with the very frank yet also sarcastic doctor, her parents (as always) and, obviously, the encounter on the street with Adam.
"Jesus fucking Christ, kid, be careful."
And then there's Adam. Oh, boy. Once again Adam Driver steals the show with his unhinged performance and kudos to Shiri Appleby for going along for the uncomfortable ride. Pun not intended. She's been great in her guest spot so far, especially since she participated in one of the most difficult scenes ever shown on the difficult show and not just because of the semen. But yeah, the semen. At least he missed the dress. The most interesting part of the thoroughly engaging thread probably happened right before the meeting with Hannah because it showed Adam starting to tire of playing the boyfriend and foreshadowed the full blown break to come. Again, not intended. The show seems to be suggesting that the two weirdos, Hannah and Adam, are probably perfect for each other because they aren't put off by the other's extreme behaviour. Hannah's willingly engaged in 'worse' sexual acts with Adam (remember Africa?) and he cracked a tiny smile, immediately engaged, when she told him the Q-tip story. A match made in weirdo heaven.
Girls returns with Episode 10, "Together," next Sunday at 9 p.m. ET on HBO. The great song that closed "On All Fours" was Daniel Johnston's "Life in Vain" (live with The Swell Season).
Your Daily Blend of Entertainment News
Thank you for signing up to CinemaBlend. You will receive a verification email shortly.
There was a problem. Please refresh the page and try again.