Good News: Bill Nye Is Going To Be On Whose Line Is It Anyway?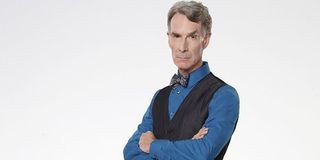 I think we all felt pretty gypped a couple of seasons ago when Bill Nye was eliminated early in the seventeenth season of Dancing with the Stars. The science educator and former television host wasn't much of a dancer, but he was a great showman and a whole lot of fun. Thankfully, his time appearing on unexpected programs isn't over, as he's about to try his hand at improv. More specifically, he's about to try his hand at improv on an upcoming episode of the CW's Whose Line Is It Anyway?
Season 11 of Whose Line is it Anyway? hit the schedule this past spring, and this season we've already seen some big names pop up, including Penn & Teller, Vernon Davis, Cedric the Entertainer, Scott Porter and Jane the Virgin star Gina Rodriguez. Bill Nye's big guest appearance is coming up fairly soon, with his episode set to air on August 31 at 9 p.m. ET. Joining Bill Nye in the episode will be host Aisha Tyler, regular players Ryan Stiles, Wayne Brady and Colin Mochrie and guest comedian Greg Proops.
Early in its run, Whose Line is it Anyway? didn't feature "special" guest performers. The rotating fourth chair usually cycled between the same comedians, save the occasional well-promoted appearance by someone like Robin Williams. However, when the sketch comedy series returned to the schedule back in 2013, it added some guest stars to the mix to change things up from the original late nineties and early 2000s series, allowing each to appear as a low pressure additional participant.
While Bill Nye is known as a bit of a comedian, Whose Line is it Anyway? is a very different sort of comedy, requiring participants to work on the fly and without a net. In short, it's not something people are able to fake, but fortunately, the audience and viewers at home are well aware of exactly how difficult it is. As such, the point is less for them to make the audience laugh and more for them to jump into the fire and try not to get burned too badly. Besides, the regular players are always on the lookout to help as much as possible. That's the basic idea of improv anyway. Everyone is on the same team, and it's far easier to succeed if people are helping each other out.
If nothing else, Bill Nye is always a great sport. He jumps in and goes with things to the best of his ability, which is how he ends up on programs as diverse as Dancing with the Stars and Star Talk. That willingness to try and to sometimes fail should serve him well on this series. Here's to hoping he's able to steal a few laughs and remind everyone watching at home just how much he's brought to the world during his lengthy career.
You can catch new episodes of Whose Line is it Anyway? on Mondays at 9 p.m. ET, only on the CW.
Amazing Race & Top Chef superfan with a pinch of Disney fairy dust thrown in. If you've created a rom-com I've probably watched it.
Your Daily Blend of Entertainment News
Thank you for signing up to CinemaBlend. You will receive a verification email shortly.
There was a problem. Please refresh the page and try again.