Will & Grace Creators Reach Settlement With NBC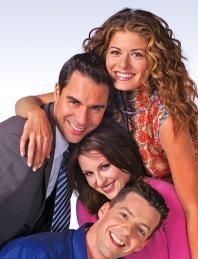 Too bad Max Mutchnick and David Kohan couldn't write stories as well as what's recently happened to them in court. Maybe 'Will & Grace' wouldn't have been a mediocre show with two characters trying to get laughs, and desperately so in final seasons. The creators reached an out-of-court settlement with NBC Studios following a tumultuous day in court on Thursday that saw a verdict for $48.5 million in Mutchnick and Kohan's favor thrown out.
According to The Hollywood Reporter,Mutchnick and Kohan claim that NBC failed to negotiate a fair licensing fee, which cost the creators around $65 million. Honestly, if this is true then I'm all for them getting the cash earned. It's only slightly disgusting when someone is upset that they didn't receive the gagillion dollars offered, meanwhile the rest of the country works two jobs just to put skirt steak on the table. Prior to the deal Judge Warren Ettinger was preparing to announce whether the case would be declared a mistrial or sent back to the jury with an alternate juror replacing foreman Dean Hartwell. It was discovered at the end of the proceeding that Hartwell posts a political blog that has called NBC to task for decisions.
Lawyers from both sides questioned jurors to find out if Hartwell influenced the deliberations. Indications from the jurors show Hartwell said very little, and the initial finding for Mutchnick and Kohan were based on the evidence. "We believed their testimony. NBC did not live up to their obligations, we believe we made the right decision," juror Brian Hewett stated. With this debacle behind them, the 'Will & Grace' creators can move on to more fulfilling pursuits. It's probably too much to hope it won't be in the world of television.
Staff Writer at CinemaBlend.
Your Daily Blend of Entertainment News
Thank you for signing up to CinemaBlend. You will receive a verification email shortly.
There was a problem. Please refresh the page and try again.