Green Arrow Poised To Return To The CW In New Series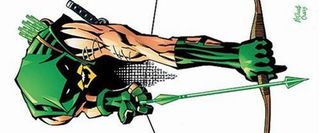 The CW is no stranger to superheroes. The network's long-running superhero drama, Smallville, only finished its tenure last spring. Now, the CW is working out a deal to get another superhero property on the network. For Smallville fans, the network's new superhero may actually be a familiar name.
The deal the CW is brokering is to get Green Arrow on air. The Green Arrow character actually showed up on Smallville through the years, eventually becoming more of a notable character toward the end of the show's run. However, Green Arrow has been a name known among comic book fans for years. The character is a property of DC comics that initially appeared in a 1941. Other than the small ordeal where the son took over, Green Arrow is generally thought of as eccentric billionaire Oliver Queen, an extremely good archer with odd and tricky arrows.
If negotiations work out, the CW will earn a pilot deal for the show, currently called Arrow. Smallville's Justin Hartley is not currently attached to the deal and, according to Deadline, Green Arrow's storyline will not be based on any comics. The hour-long program will instead be in a new world with an entirely new story, re-written by Greg Berlanti, Marc Guggenheim and Andrew Kreisberg. David Nutter, who recently directed some upcoming episodes of Game of Thrones, will direct the pilot.
Especially since Green Arrow is already a known character to Smallville fans, it seems choosing him for a new superhero program has potential on the network. I'm sure that is what the CW is hoping, because even when Smallville was falling in popularity, the program still ranked more highly than many CW shows. While negotiations still need to push through before all the details are finalized, I would put my money on Arrow doing pretty well.
Your Daily Blend of Entertainment News
Thank you for signing up to CinemaBlend. You will receive a verification email shortly.
There was a problem. Please refresh the page and try again.