Grey's Anatomy's Kim Raver Joins Revolution In A Recurring Role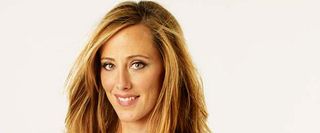 Grey's Anatomy and 24 actress Kim Raver is headed to NBC for the fall season, and she's set to join a pretty big drama. Eric Kripke's science fiction drama, Revolution, has signed the former Seattle Grace Mercy West Hospital doctor to play a recurring character. She'll join David Meunier and David Andrews as the third recurring actor recently hired on the futuristic post-blackout show.
So far, mum's the word on what sort of character Raver will be playing, but TV Line has gotten confirmation the role will be "important." After her character got the boot at the end of Season 8 of Grey's Anatomy, the actress has moved forward into a new role pretty quickly. However, it shouldn't really be surprising to see Raver find another suitable, longer-term role this promptly. The actress has done pretty well for herself on TV shows over the past decade. While she's not usually the top bill, she hops from high profile drama to high profile drama like it's her job, which it kind of is.
Revolution follows the world after a global blackout occurs and people must learn to adapt and survive in a whole new living environment. The NBC drama won't begin airing until September 17, but if you want to catch a sneak peak of the drama, NBC has posted the pilot in its entirety for our viewing pleasure.
If you'd rather wait to catch the show on a bigger screen, Revolution will air Monday, September 17 at 10 p.m. ET.
Your Daily Blend of Entertainment News