Growing Up Fisher Review: Passable NBC Comedy Is More Of The Same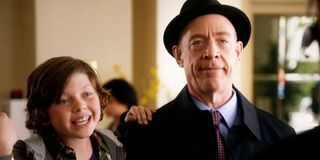 NBC keeps trying to regurgitate a goofy, fun loving comedy for its Thursday night block. Jenna Elfman's back for this one, after her stint on 1600 Penn didn't go so hot. The premise is as kitschy as you might expect from a family comedy at NBC, featuring a father figure who is blind, but spends his days hiding this knowledge from his coworkers at a law firm. At home, Joyce and Mel Fisher (Elfman and J.K. Simmons) are getting divorced, leaving their teenaged daughter (Ava Deluca-Verley) annoyed and their younger son, Henry (Eli Baker), befuddled. This isn't a typical divorce story, however. Instead, it's a nostalgia-based comedy told from the perspective of an adult Henry (Jason Bateman) narrating childhood experiences.
Really, Growing Up Fisher shouldn't make anyone feel as if they've wasted time after its first few episodes. The show has a likeable cast, funny enough premises and plenty of laughter and sentiment. Growing Up Fisher's even a comedy that has found a good rhythm by the end of its first episode. However, it's tough for me to see this one landing as a hit on a network that has struggled with its comedy slots for years, most recently with similar outings like Penn and the recently-cancelled The Michael J. Fox Show. It doesn't really fit in with edgier fodder like Parks and Recreation or Community and it doesn't stand out on its own merit, despite having Elfman, Simmons, Jason Bateman, and a slew of reasonably precocious children in its cast.
There's nothing wrong with NBC taking a stab at having a broad comedy lineup. In fact, I really wish a show like Growing Up Fisher could work for the network, an idea I've expressed in the past. However, it's becoming clear that the sentimental thing is not resonating with enough viewers, inside the 18-49 demographic or out, and if a family comedy isn't working, it seems foolish to beat a dead horse with a stick.
Early episodes of the network's latest stab at family-friendly humor feature multiple storylines, with the Dad "coming out" as a blind man as his family begins to learn how to live as a dysfunctional unit. The other seemingly important storyline—the family's recent trudge through divorce—is sidelined in order to make room for more blind jokes. Instead, Mel's wife, Joyce, almost seems to be having a midlife crisis, trying on her daughter's clothing and generally behaving like someone who is much younger, all in search of what it means to be a good mother. The plots are all pretty basic, but Elfman and Simmons are still likeable on the small screen.
If it seems as if I've been railing against Growing Up Fisher's quality, I will note it is a fine enough half-hour of television that should keep those who tune in occupied, and offers more than a few chuckles and laughs. But it's no better than NBC's fall offerings, and it's quite a bit worse than the likes of the also-cancelled Go On. And if we couple its formulaic sensibilities with NBC's track record, Vegas odds are that Growing Up Fisher won't be a success.
You can decide for yourself on NBC this Sunday "after the Olympics."
Amazing Race & Top Chef superfan with a pinch of Disney fairy dust thrown in. If you've created a rom-com I've probably watched it.