Happy Town Preview: ABC Series Premiere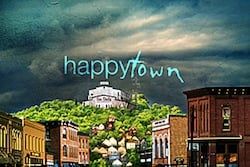 ABC's new series Happy Town is set to premiere later this month. Don't be misled by the peppy sounding title though. Based on the series description and the clips we have, this Haplin isn't quite as happy a town as one might think.
For those of you who have been waiting to see Amy Acker back on TV since the cancellation of Dollhouse, you're in luck as she's set to play the role of Rachel. Meanwhile, M. C. Gainey's set to play the sheriff of Haplin. Lost fanatics will remember Gainey from his role as Tom Friendly.
Below is ABC's full series description, which includes the rest of the case. Further down are a couple of clips from the series premiere.
Happy Town premieres Wednesday, April 28, 10:00-11:00 p.m., ET.
Your Daily Blend of Entertainment News
Thank you for signing up to CinemaBlend. You will receive a verification email shortly.
There was a problem. Please refresh the page and try again.