Harold Perrineau Joins J.K. Simmons In NBC Comedy Family Guide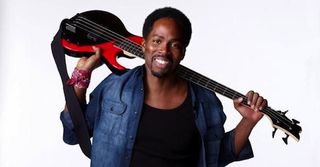 NBC's single-camera comedy pilot Family Guide already has plenty of talent behind it, with Bent's DJ Nash writing and executive producing, David Schwimmer directing, and Jason Bateman executive producing. Among the cast is Parker Posey, J.K. Simmons and Eli Baker. And now we can add Harold Perrineau to the already-promising cast. The actor is reuniting with Oz co-star J.K. Simmons for a part in the comedy.
Family Guide stars Eli Baker as Henry, a son who idolizes his blind father (Simmons) and "is bemused by" his mother's (Parker Posey) newfound adolescence following her divorce from Henry's father. But the family somehow manages to grow closer after the divorce. Deadline says Harold Perrineau has come on board to play the role of Posey's character's apartment building manager, who befriends Henry.
Perrineau, who's known for a number of memorable TV shows, including Michael on Lost and Augustus Hill on HBO's Oz, has been all over the place lately. He showed us his villainous side last season in Sons of Anarchy as Damon Pope, and then shifted to comedy for the part of Stevie in The Wedding Band. His feature roles include the second and third Matrix movies, Romeo + Juliet, and more recently, Zero Dark Thirty. He also has a number of other films coming up, including Ten, with Arnold Schwarzenegger, and Inferno: A Linda Lovelace Story. And with The Wedding Band cancelled, it looks like he's available for another regular TV role. It's good to see he's sticking with comedy, and I'm especially hopeful that this one works out, not only because I liked Bent and I love this cast, but also because I loved Simmons and Perrineau in Oz, and would love to see these two actors working together in comedy.
Your Daily Blend of Entertainment News
Thank you for signing up to CinemaBlend. You will receive a verification email shortly.
There was a problem. Please refresh the page and try again.