Hercules Star Kevin Sorba Reveals He Had Three Strokes During Filming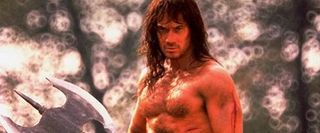 As the title character in Hercules, Kevin Sorbo played an immortal with incredible strength; years after his popular role was relegated to re-runs, the actor admits he wasn't quite as healthy as he appeared on screen. In his upcoming book, Sorbo talks about a serious health crisis no one would have expected – he had three strokes while filming the series and faced a long recovery.
Neither Sorbo nor the show's producers wanted his illness to be public knowledge, so it was carefully covered up and adjustments made to the show to help him recover. But in his book, True Strength: My Journey From Hercules to Mere Mortal and How Nearly Dying Saved My Life, Sorbo tells all, and he spoke about his experience with Neurology Now . While playing the powerful demi-God, Sorbo started to experience pain, tingling and cold feelings in his left arm. When the symptoms developed further – dizziness, blurred vision and slurred speech among them – Sorbo went to the hospital and received news no one expected.
It was an aneurysm in his shoulder producing blood clots that was causing the pain, and what's more, the actor had already suffered three different strokes as a result. Sorbo, who stayed in top physical condition for his role and was incredibly healthy, was only 38 when the aneurysm struck. Needless to say, it rocked his world:
Sorbo suffered from two years of depression, anxiety and frustration before he felt himself again. Over a decade after the aneurysm, Sorbo has shocked Hercules fans with the long-held secret of his health crisis.
Sorbo is currently developing a comedy project for Syfy entitled Legendary in which he plays himself and is called upon by a fan of his previous incarnation as Hercules to battle evils of the underworld.
Your Daily Blend of Entertainment News
Thank you for signing up to CinemaBlend. You will receive a verification email shortly.
There was a problem. Please refresh the page and try again.