The Walking Dead Gets A Disturbingly Peppy 80s Opening Theme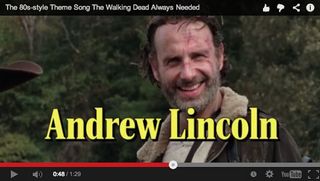 The Walking Dead series spoilers ahead:
The Wil Wheaton Project finally answered that big question, what if The Walking Dead had an 80s-style opening theme? The video above has been making the rounds since Wil Wheaton's newsy Syfy talk show The Wil Wheaton Project made its debut, and it cleverly presents The Walking Dead as your typical 80s drama or sitcom, complete with a smiling cast... covered in blood, killing zombies and trying not to die. The song doesn't try to present The Walking Dead as a happier show. It just sets a happier tone to the horrifying material... which somehow makes it all that much more creepy.
"Sometimes life aint just a walk in the park," the theme song sings, to an upbeat tempo. "You find yourself lost more than Lewis and Clark." It's the start of what you'd think is an optimistic view on life and the challenges of a zombie apocalypse. But then there's talk about shooting your mother in the face, putting a little girl in her place, Yeah, there's really no way to dress up The Walking Dead as anything but the gory, horrifying, dramatic and usually entertaining series that it is. But the theme song does find a way of making the series seem almost cheerful while we watch people get mauled by zombies, shot in the face or stabbed in the head. We even get a glimpse of Carl firing his gun. Remember that time he shot that guy? Good times...
As you may have surmised by the intro in the video, this theme song was presented by The Wil Wheaton Project host Wil Wheaton and his pal Chris Hardwick, who The Walking Dead fans should recognize well enough as the host of the TWD after-show Talking Dead, if not The Nerdist podcast, @Midnight or his frequent appearances at Comic-Con. Given the nature of the show and their history, Chris Hardwick seemed like the perfect guest to stop by Wheaton's new series. You can catch The Wil Wheaton Project on Tuesday night at 10:00 p.m. ET on Syfy.
The tease for next week's The Wil Wheaton Project announces planned discussion of Game of Thrones, the Groundhog Day-like Tom Cruise sci-fi film The Edge of Tomorrow and an appearance by The Guild's Felicia Day!
As for the return of The Walking Dead, the AMC zombie drama is currently on hiatus and it'll be that way until October, but we've already started to gather information bout the fifth season. You can read all about that here.
Your Daily Blend of Entertainment News
Thank you for signing up to CinemaBlend. You will receive a verification email shortly.
There was a problem. Please refresh the page and try again.