Wynonna Earp Series Finale: Did Wynonna And The Rest Get Satisfying Endings After Four Seasons?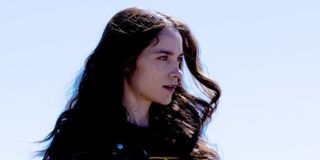 (Image credit: Syfy)
Warning: HUGE SPOILERS AHEAD for the series finale of Syfy's Wynonna Earp, called "Old Souls."
The wild ride of Wynonna Earp has come to an end, with a finale following on the heels of arguably the most harrowing battle that Wynonna and Co. ever had to win. Instead of trying to deliver a finale that would top the penultimate episode when it comes to grandness of scale and epicness of storytelling, "Old Souls" focused on the characters more than the plot, delivering some twists that were years in the making, closing some doors, and opening new stories that won't be explored in another season.
All of which raises the question: did Wynonna, Doc, Waverly and the rest get happy and satisfying endings after four seasons of Wynonna Earp, with no sign that a last-minute rescue is on the way for a fifth season? Let's break it down, and it's a sign of where Wynonna Earp took the stories in the finale that some character endings have to be entwined, including for the formerly lone wolf Earp heir herself and everybody's favorite newly mortal gunslinger.
Wynonna And Doc
The case of the week was more a source of wedding-related hijinks when Wynonna got stuck in Waverly's haunted wedding dress after trying it on, and she recruited Doc's help in trying to get it off. And not in the fun way! After the penultimate episode last week ended with Wynonna realizing some of the mistakes she'd made and Doc de-vamped, it was inevitable that their relationship would come to a head for better or worse in the series finale. In true Wynonna and Doc style, it was worse before it was better!
Wynonna discovered what seemed to be a letter from Doc telling her that he was leaving Purgatory after the wedding. Unlike me, Wynonna was not so immediately impressed by his 19th century penmanship that it took priority over the contents of what he'd written. There were misunderstandings galore as Wynonna accused him of always walking away, Doc calling her a coward in matters of the heart, and Wynonna not realizing that the "letter" was just him practicing what to say.
They more or less came back to good terms for the wedding, but it was an emotional parting when Doc confessed that thoughts of love sustained him when he was down in the well, but Wynonna said that she couldn't leave Waverly. Tears were flowing and admissions of love were almost dropping, but Doc left and Wynonna stayed... until Waverly found out and gave Wynonna the speech she needed to forgive herself, free herself from the burden of protecting everybody in Purgatory, and allow herself to love and be loved. Growth!
Which in Wynonna Earp terms meant that she got on her motorcycle, chased Doc's car, and shot Charlene to stop him. But she caught him, they dropped the "I love you" declarations straight to each other's face, and rode off into the sunset, with Doc holding onto Wynonna on her motorcycle, both all-in on each other. Those crazy kids worked it out, and between Waverly talking some sense into Wynonna (and proving how capable she is by taking down the wedding dress witch herself), Wynonna seems to be in a good place to build a life with Doc. As for what they decided to do next... well, more on that lower.
Waverly And Nicole
Fortunately for fans of Wynonna Earp's most consistent and healthiest couple, the WayHaught wedding was wonderful, even if it didn't go off without a hitch or two courtesy of a haunted wedding dress, homestead mishaps, and another dramatic chapter in the Wynonna/Doc saga. The brides looked beautiful, Nicole asked Nedley to walk her down the aisle and had Wynonna as maid of honor, Waverly asked Doc to be her best man, and they recited truly lovely vows. Sure, there weren't exactly many guests and they had to deal with some crises before tying the knot, but that knot is tied!
Of course, the new wives also aren't going anywhere, since Nicole made her pledge to become guardian of the Ghost River Triangle to save Waverly, but Nicole made it clear to Waverly that she's not upset that they can't go off on an adventure like Wynonna and Doc. Nicole is just happy to be able to stay at home, and Waverly showed some growth of her own in saying goodbye to Wynonna and sending her off to try for her own happy ending. They're married, content, and nobody was coughing up frogs or going full dark angel, so I for one count it as a win!
It's fitting that their scene at the homestead was the last of the series before the shot of the three signs over the "Earp" mailbox, reading: "AND HAUGHT," "sometimes HOLLIDAY," and "Everyone Welcome." And if you weren't emotional after their final scene followed by the mailbox, then you are made of sterner stuff than I am!
Jeremy Chetri
Alas for poor Jeremy, he was the one surviving member of the Season 2 team who didn't get to end up with their big love interest of the series, as there was evidently no going back to what he and Robin lost. The good news for good old Jeremy is that he's done wallowing over Robin, and his prospects are looking good professionally and even romantically. He received a phone call letting him know that he's been promoted to Deputy Chief of the BBD and will be in charge of the area of the Ghost River Triangle. Not too shabby at all for a guy who was previously just a BBD underling with weird crotch powers!
And even better for Jeremy, he put his foot down on not starting his new job right away, because he has a date! And it wasn't an easy date to come by, thanks to a case of mistaken identity leading Jeremy to accuse a cute waiter by the name of Damon of being a demon responsible for everything going south at the wedding.
Luckily, Damon accepted Jeremy's very weird apology, which bodes well for Damon accepting more weirdness that will presumably come his way if he starts a relationship with BBD boss Jeremy. Jeremy is all set up to lead at his job and maybe even find love again with Damon! Just so long as he doesn't revisit the idea that Damon is a demon.
The Rest Of The Family
Other than the central five characters of Wynonna, Doc, Waverly, Nicole, and Jeremy, the Wynonna Earp finale didn't deliver a lot in the way of closure. Nedley was taking Rachel and Billy fishing, to let Waverly and Nicole have the house to themselves after getting married, and his dynamic with Rachel has been fun in Season 4. Presumably due to pandemic precautions, Wynonna Earp only alluded to characters who weren't present, like the newly-vamped Mercedes and Aunt Gus, rather than including them as wedding guests, although there was a nice nod to Dolls with a chair at the wedding marked with his name.
Speaking of Gus, though, the one big thing that I got wrong about the Wynonna Earp series finale was that I thought Gus would show up for Waverly's wedding with a certain someone in tow, and like Dolls, Gus did have a chair with her name on it. And while I was wrong about Gus showing up with somebody to see Wynonna and Doc, I wasn't wrong about the finale delivering some closure there.
Bonus: Alice!
Little Alice might not have turned up at the wedding with Gus or even gotten a name-drop at the end, but Wynonna suggested to Doc that they make a pit stop in Miracles, Montana, and he connected the dots that Miracles is where their daughter is. Doc wondered out loud if she would recognize them, and they were both all smiles when Wynonna said that she'd "take that bet." Doc and Wynonna are off to see Alice, and if that scene wasn't just the gosh darn cutest for these two characters who never got more than a few moments with their daughter before they had to send her away, then I don't know what is!
So, did all of these endings make for a satisfying Wynonna Earp series finale? I for one am perfectly happy with it, since it didn't end on any painful cliffhangers that would never be resolved due to the cancellation. The WayHaught wedding happened with as few hitches as could be hoped for on Wynonna Earp, Wynonna and Doc got their acts together and are heading off to find their daughter, and it was a hopeful ending. That said, I cared far more about Wynonna Earp characters than the plot, so I won't be surprised if some fans aren't thrilled that the finale wrapped up the case quickly to focus on other things.
Were you satisfied with how Wynonna Earp ended? Let us know in our poll below, and if you're already in the mood to revisit some Wynonna Earp days gone by, you can find the first three seasons streaming on Netflix now (opens in new tab). For some upcoming viewing options, be sure to check out our 2021 spring premiere schedule.
This poll is no longer available.
Resident of One Chicago, Bachelor Nation, and Cleveland. Has opinions about crossovers, Star Wars, and superheroes. Will not time travel.
Your Daily Blend of Entertainment News
Thank you for signing up to CinemaBlend. You will receive a verification email shortly.
There was a problem. Please refresh the page and try again.